It's no longer a rarity to see HDB flats transacted for above a million dollars – and at record-breaking Cash Over Valuations (COVs), at that. The question is, how exactly did those agents accomplish that, and can you do the same for your property?
We interviewed Kenneth Chua on the topic. He holds a number of records for HDB flat sales: over the past year alone, he was featured in Mothership and Shin Min Daily News for selling 5-room HDB flats at the highest COVs for Toa Payoh and Havelock Road, respectively.
Gleaning insights from his years of experience, we'll share 5 actionable insights you can apply to sell your HDB above market value.
How to Sell Your HDB at Above Market Value: 5 Essential Steps
How do you make a single unit stand out among dozens – possibly hundreds – especially when it's a seller's market? Here's Kenneth's advice:
1. Invest in Home Styling and Staging
Beyond decluttering and tidying up, there are alterations you can make to a property that greatly enhance a potential buyer's first impression of the space.
Consider home styling for example: this is when you do inexpensive touch-ups to the space, like putting up a fresh coat of paint or making minor repair works. Sometimes a change in lighting can greatly improve the ambience of your home. If your flooring looks worn out, overlaying vinyl is a low-cost way to transform the space.
Read also: How Does Home Styling Affect Your Home Sale?
Home staging is when you shift elements of your home around to highlight its strong points: the natural lighting or spacious bedrooms, for example. Staging doesn't have to cost a lot: often, you can do it with pieces you already have in your home.
Home staging and styling are a must if you want a record sale. If your house is in original condition with all the usual wear and tear of everyday living, it's hard to convey the best first impression to buyers.
Read also: 159 Home Staging Tips to Sell Your House Fast
2. Do a Thorough Data Analysis
The better your data analysis, the more accurate the picture you'll have of your property relative to the competition. Getting a valuation of your property is only the first step.
Combing through past transactions via HDB or URA (for private property) may reveal patterns about buyer behavior and the market sentiment towards your neighbourhood. You may even be able to discern the unique selling points that higher-sale properties have in common with your own.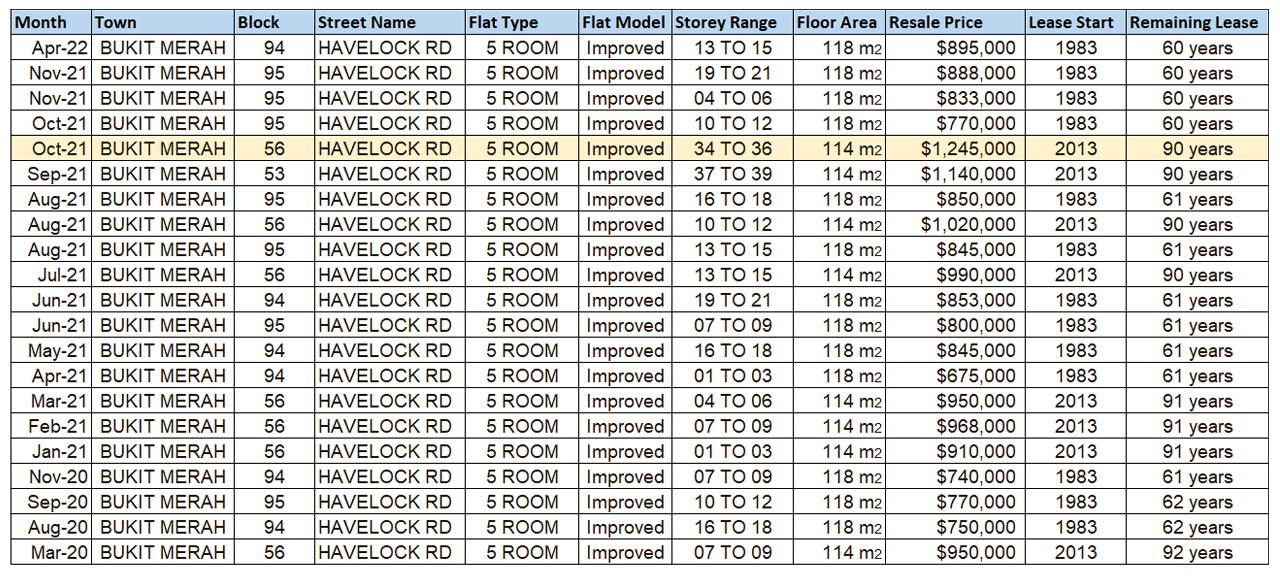 For example, with Kenneth's record sale at 56 Havelock Road, data analysis revealed that no one in that block had sold a unit above the 30th floor in the past 7 years. That became one of the unique selling points (USPs) and why the unit could fetch a COV of $135k in just two weeks of being on the market.
Done well, the data on past transactions, market sentiment, and current listings can also give you indications as to the future market value of your unit.
3. Get Professional Photography and Work on Your Listing
The first interaction a potential buyer will have with your property is your listing. Where, how, and what's listed is essentially a recipe for success.
Like HR managers going through CVs, buyers often scroll through hundreds of listings before finally shortlisting a few. Every bit counts in trying to capture a potential buyer's attention.
Professional Photography
Between these two, which are you more likely to click on?


Professional photography can make the difference between a listing that gets clicks versus another that gets overlooked. Many agents don't bother investing in professional photography because it's an extra cost for them – but that might also lead to a unit being unsold for months.
And once buyers click into the listing, they should be able to see at a glance the USPs that the thorough data analysis revealed (along with other relevant information that can help your unit stand out).
Side Note
Many sellers have the misconception that they only need to focus on their flat's distance from the MRT or nearness to good schools and amenities. That's only half the story.
The fact is, every seller is competing not just with flats in other neighbourhoods, but also with flats in the same estate or building. Highlighting the USPs of your specific flat is very important when presenting the flat to potential buyers, especially if you're hoping to get a price above the market average. 
Examples of USPs may be position within the building, the facing of your unit, treeline, or high floor. There are many, but the key is highlighting the right ones to the right demographic.
4. Consider Engaging an Experienced Agent
Even though we live in a time when DIY is more and more of an option, we've found that partnering with a good agent can still hold a lot of value.
Read also: Is It Worth It to Engage a Property Agent? (Pros and Cons)
Truth is, most agents are just hoping to sell a property at market price. They approach each sale wanting to close the deal, get their commission, and move on to the next property. There are also plenty of part-timers who sell property as a side hustle — definitely not what you want!
Work with more seasoned and ambitious agents whose desires extend beyond closing a one-time deal. Here are a few ways to tell if you're working with the right agent:
A solid track record

and desire to get you the highest prices

Ready buyers,

especially if an agent focuses on specific areas

Specialised skills and knowledge,

such as the ability to sell properties with only remote viewings

Good presentation and negotiation skills.

Interview potential agents like you would a job candidate, because the way they carry themselves tells you a lot about how they'll speak to potential buyers
Ready buyers are a key advantage that's often overlooked by sellers. Say an agent has shown a flat to 20 potential buyers and gets five offers. Only one is accepted, of course, but that means there are four other buyers who have already narrowed down their choices to similar units. 
These are hot leads that could lead to very quick and favorable closings, and the agent you choose may have these contacts. Skilled agents will actively keep in touch with buyers even if the seller doesn't close with them.
5. Learn the Art of Redirection
Every unit has its pros and cons. So what do you do when buyers notice negative features? Don't deny them; instead, learn to redirect their focus.
Skilled negotiators know that most features of any property are a double-edged sword, which is why there's a buyer for every variety of property. A high floor may mean better views but a warmer environment and inaccessibility if there's ever an issue with the lift. A unit facing a highway or MRT track may have extra noise, but it's also pretty much guaranteed to be an unobstructed view. 
Redirection is about addressing – not minimising – the negatives while highlighting the positives.