Close to midnight on 15 December 2021, the Singapore government announced cooling measures to soften the heated property market. Below is an infographic summarizing all the changes!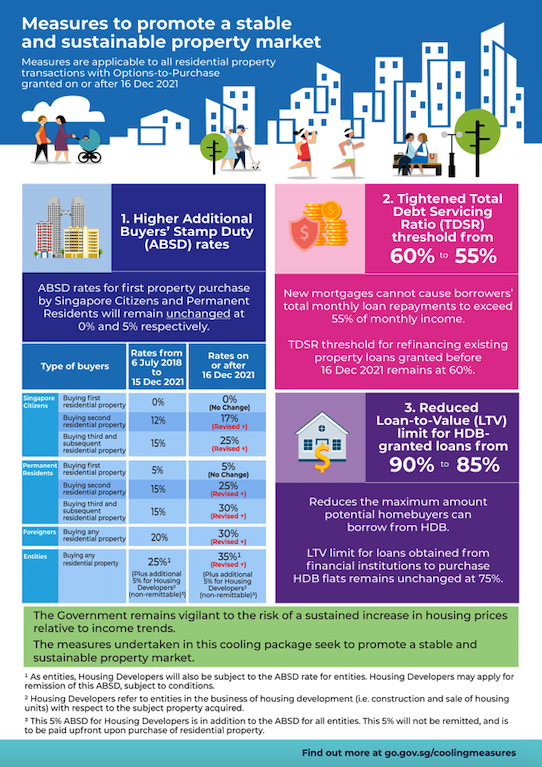 Source: Ministry of National Development
Such cooling measures are not new. The last implementation was in July 2018. Private residential prices increased by 9.1% within one year after declining gradually for almost 4 years, prompting the implementation in 2018. 
So what is the difference this time around?
Previously, the government announced the cooling measures earlier in the evening. This gave Singaporeans time to make last-minute purchases. Long queues and crowded show flats were reported, such as those at Park Colonial and Riverfront Residences.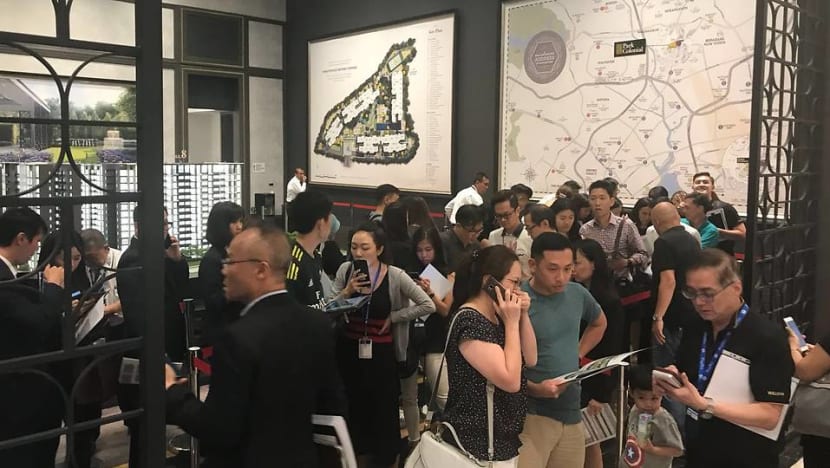 Source: Channel News Asia
This time, the measures were announced close to midnight before the effective date of the cooling measures. Experts believe that the timing was a carefully considered move by the government. It prevented a reoccurrence of the long queues and crowds in 2018. With the current pandemic situation, this also reduces the chance of clusters that may lead to another wave of infections. 
The latest implementation is the government's reaction to a buoyant private residential and HDB resale market. Since the first quarter of 2020, prices for private housing saw an increase of 9%, while HDB resale value saw a 15% increase. Private home sales also rose 69.8% month-on-month in November.
What are the reasons for the hike in property prices? 
1. High demand for housing
There has been an increase in demand for Built-To-Order (BTO) HDB flats. Some of the reasons cited by HDB include an increase in marriages and families formed, and changing social norms. Multigenerational families are now more interested in living on their own. 
Demand for private properties has also been increasing. The improving economy and increasing demand for upgrading are some of the causes. Experts also say that the private property market may also enjoy a boost from an increase in foreign demand due to relaxations of pandemic measures. 
2. Low supply
The construction sector in Singapore saw major disruptions during the pandemic.  Construction companies faced difficulties sourcing affordable materials. Travel restrictions for foreign workers also caused labour shortages. This has affected the supply of housing in Singapore. With a low supply but high demand, property prices in Singapore have thus seen astounding increases. 
Price hikes can be seen in the record number of HDB resale flats transacted at $1 million amid the pandemic. There were 261 million-dollar flats sold in 2021. In 2020, there were only 82 such flats. Do you know that Bluenest also sold a few resale HDB units at more than $1 million? It was even featured on Mothership! You can read more about it here!
So What's the Impact of These Latest Cooling Measures on Homeowners in Singapore?
Increase in ABSD rates
What is ABSD? Introduced back in 2013, it is an additional tax that buyers would have to pay if they were to purchase another property.
The latest implementation would deter investors and foreigners from buying. Those who are unable to pay the additional tax for another property will contribute to the drop in demand. This will keep housing prices affordable.
Residential property developers will also feel a negative impact from this increase. The increased ABSD can only be remitted if the new development is completed and sold out in five years.
The impact is already showing in the en bloc market. Shun Tak Holdings, a Hong Kong-listed company, backed out of their en bloc purchase of High Point. They won the tender on December 9 for $556.7 million. Experts have attributed this move to the cooling measures. The revised ABSD rate would not have affected the developer. However, the increase of ABSD for property buyers will affect the demand for the development.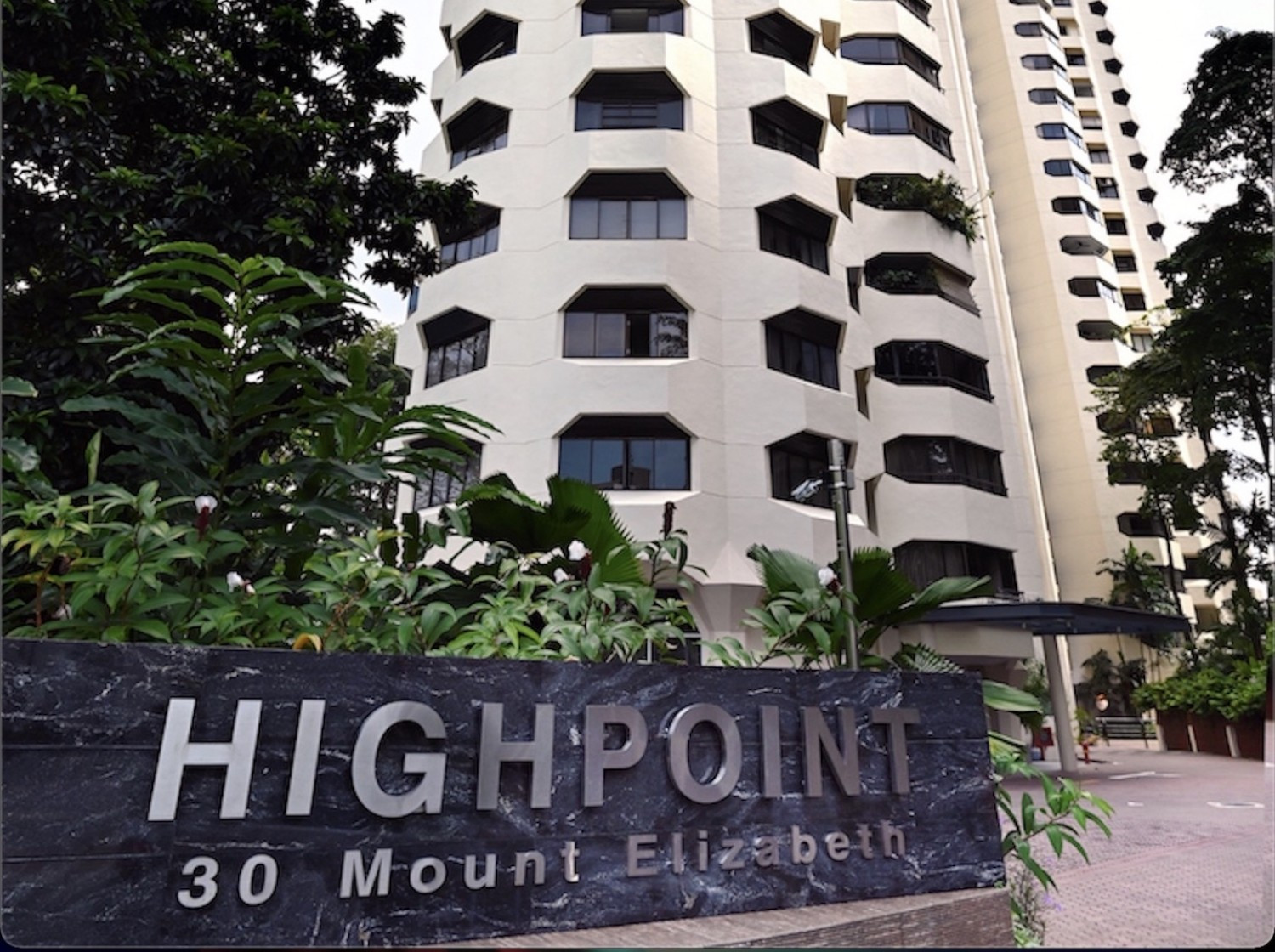 Source: Edgeprop
Prior to the announcement, the momentum for en bloc saw the highest number of successful cases since 2018.
Property developers will be more cautious now on where they purchase residential land. Demand for land will also be uneven as larger plots will have a lower demand as more units have to be sold. 
Tighter TDSR threshold 
Total Debt Servicing Ratio (TDSR) determines the maximum amount of loan one can take on. It is dependent on the borrower's gross monthly income. With the new regulation, one can only have debt obligations of up to 55% of their gross monthly income. 
Introduced back in 2013, the purpose was to encourage borrowers to be prudent when taking up property loans.  It is only applicable to property loans granted by financial institutions. 
The government hoped that the possibility of individuals going into debt will be lower. There have been reports that mortgage loans have caused a high percentage of households to be in debt.
Tightening TDSR will force households to make careful decisions when planning to upgrade or even purchase a property. This measure may also be helpful with an expected increase in interest rates.
Reduced LTV limits (for HDB-granted loans)
The loan-to-value (LTV) limit is a percentage of the property's value that can be paid off by taking a loan. This is the maximum amount that an individual can borrow from a financial institution for a housing loan.
The recent change is only applicable to those taking up loans from the Housing Development Board (HDB). In 2017, the change affected loans granted by financial institutions only. 
Experts believe that this change has a limited impact on property buyers. Financial institutions are usually the preferred option to secure a loan. They usually offer lower interest rates, although only 75% of the price or home value can be financed by these loans.
What Can We Expect in 2022?
In response to the low supply, the government has plans to increase the supply of private housing and ensure a stable private property market. 13 sites were released under the Government Land Sales Programme for the first half of 2022 after the cooling measures were announced. This comes after the government has been seeing strong demand for private housing which has caused rising transaction volumes and prices. 
The government will also be increasing the supply of public housing. About 23,000 Built-to-Order (BTO) flats are expected to launch in 2022, 35% more than in 2021. Depending on the demand, the government has plans to launch 100,000 flats between 2021 to 2025.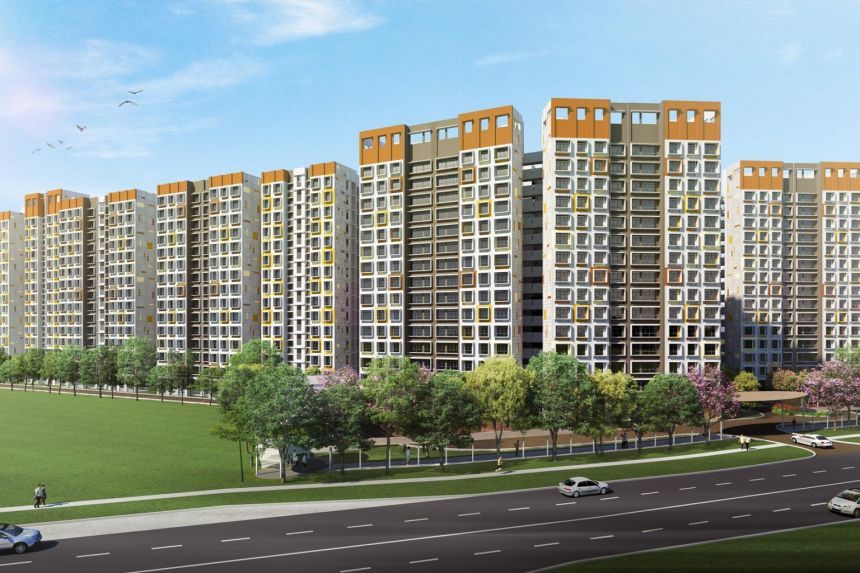 Source: The Business Times
Our Final Take
The purpose of these cooling measures is to keep housing affordable for Singaporeans and Permanent Residents to stay. With these new measures coupled with low supply, 2022 would be a rather interesting year for the property market here in Singapore.
If you have any questions, please feel free to reach out and schedule a non-obligatory consultation with our Bluenest advisor.
At Bluenest, we sell our properties faster, better and more efficient than the other agents in the market. This is the result of our AI tools, personalized marketing strategy & top-notch agents. At only 1% commission fees, you get to enjoy best-in-class service and expertise!
Also read the 5 Lessons We Learned from Record-Breaking Flat Sales.
Speak to us at +65 3138 2553 or simply drop us a mail at hello@bluenest.sg