Decided that you want to rent out your HDB flat, but don't know where to start? You're at the right place!
In this guide, we walk you through the step-by-step process of renting out your flat.
Here's a quick overview of the steps involved:
We've also written another guide — What To Do After I Secure A Tenant — that gives you an in-depth look at what you do once you've gotten a suitable offer.
Alright, let's get started!
Step 1: Check your eligibility
If you've done a bit of research about renting out your HDB flat, you'll probably have seen the term "MOP" come up a lot.
Basically, MOP refers to Minimum Occupation Period. If you want to rent out your entire HDB flat, you need to be a Singaporean Citizen and fulfil your MOP (typically five years).
If you want to rent out a single bedroom, though, you can do that as long as you're a citizen or PR. You don't necessarily have to wait out those five years.
To see HDB's other eligibility requirements, click on the following links:
Read also: Am I Eligible to Rent Out My HDB / Condo?
Step 2: Calculate your costs
From here, don't jump straight into determining how much you want to price your HDB flat at.
Instead, take some time to calculate your costs associated with being a landlord. By doing this, you'll cover your bases, and make sure that you can turn a decent profit.
If you want to learn more about these costs, we've put together a detailed breakdown in our guide — What Are The Costs Involved In Becoming A Landlord?
Step 3: Determine your pricing
Before you can determine your pricing, you'll want to do some research, and figure out what the other flats in your area are going for.
To do this, look at HDB's list of median rents by town and flat type.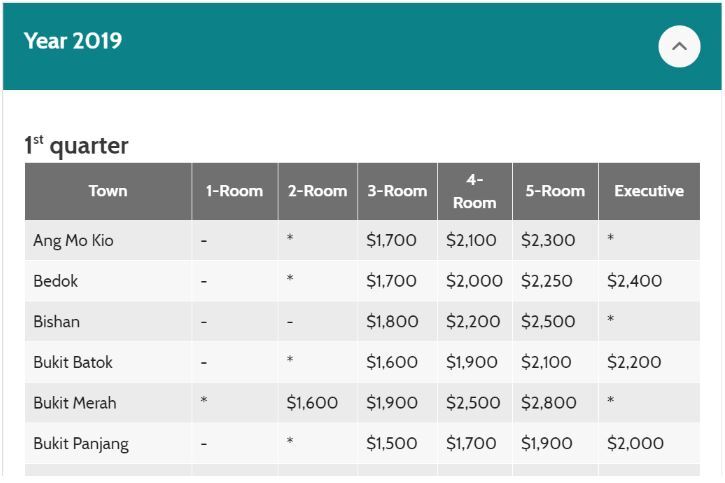 The rents are updated on a quarterly basis, and after looking at the numbers, you'll have a good gauge of how much your flat might fetch.
If you want to do an even more thorough job, you can also head to Bluenest to get a Comparative Market Analysis (CMA) done for your flat.
Step 4: List your property
After you've determined your pricing, go ahead and list your property on the major property portals in Singapore. You can also get an agent or a professional photographer to do this for you. Good images do help in getting more views to your property so it's worth spending some time and money for it!
If you're going the DIY route, here are some tips:
Take five minutes to quickly tidy each room before you snap your pictures. You don't have to do a massive spring-cleaning — just chuck stray items into your wardrobe or cabinet, and make sure your home looks fairly neat.
Make sure your pictures do your home justice. These should be well-lit, high quality, and non-grainy. Take your pictures in the day, and open your blinds/curtains to let natural light in.
Make your listing as detailed as possible, and note down anything that could potentially be a plus. For instance, if you own a corner unit that comes with plenty of privacy, highlight that in your listing.
Step 5: Conduct viewings
Once you've listed your property, you'll start getting requests for viewings.
If your agent is coordinating these for you, then you don't have much to do. Just make sure you're home, your place is reasonably neat and tidy, and that your kids (if you have any!) aren't jumping around and making a ruckus.
If you're organizing your viewings on your own, though, then here are a few tips to keep in mind:
Try and arrange your viewings ASAP. If someone contacts you today, but you tell them you're only free for a viewing next week, they might have found another property that they like by then.
If possible, conduct viewings in the morning or evening, when it's not too hot.
If you're conducting viewings back to back, make sure you schedule enough buffer time in between, so that you can give each potential tenant enough time to look around.
Make sure you're neatly attired — you don't have to put on a suit or ball gown, but it's not nice to meet your potential tenants in a ratty old tank top and gym shorts.
Make sure your home looks decent — again, take some time to tidy up before your potential tenant arrives, and spray some air freshener as well.
Give your potential tenant as many details as possible when walking them through your apartment (e.g. pointing out that your kitchen countertop is made of quartz, which is highly resistant to stains, and share that your walls were just painted a few months back). Also point out nearby amenities like malls, eateries, schools, and clinics.
Step 6: Wait for a suitable offer
Now, you might get offers that come with a million and one caveats. For example, a tenant might say that they'd like to take up your apartment, IF you:
Install air-conditioning in the living room
Leave your TV, washing machine and other appliances for them to use
Give the walls a new coat of paint
Replace the shower heads in the bathrooms
Let them sublet the apartment
If you find your potential tenant too picky, and their offer unreasonable, go ahead and refuse.
Remember: at the end of the day, you're renting out your apartment so that you can make some extra pocket money.
If it's going to cost you a bomb to fulfill all your tenant's requirements and this eats into your margin too much, it might make sense to wait for a better offer instead.
Step 7: Background check, LOI, Good Faith Deposit, etc
Once you've agreed on an arrangement that everyone's happy with, the next steps are to:
Conduct a background check
Get a Letter of Intent (LOI)
Collect a Good Faith Deposit
We walk you through each of these steps in What To Do After I Secure A Tenant, so hop on over and have a look.
Step 8: Make your HDB application
After you've got your LOI and Good Faith Deposit sorted, go ahead to obtain HDB's approval. To do this, you can submit an application through either of these channels:
To learn more, head to HDB's website.
Step 9: Draft the Tenancy Agreement
Almost there! Your final few steps are to:
Draft the Tenancy Agreement (TA)
Collect a security deposit
Get your TA stamped
Proceed with the handover
Again, we cover these steps in detail in What To Do After I Secure A Tenant, so check out the guide for more details.
What other questions do you have about renting out your home in Singapore? Let us know in the comments!