Maybe you've read the news articles on HDB resale flats going at sky high prices – some even fetching over a million dollars. You're wondering if your own home could net such a lofty value.
Or perhaps you've decided to sell your home for some extra liquidity, and are wondering how to get the best possible value and price for it.
Regardless of your reasons, you're probably wondering if there are ways to increase the value of your home without spending a small fortune in the process.
In short: yes, there is!
These 12 tried-and-tested ways will help get your home sold faster – and at an attractive value and better selling price.
#1. Create Space
In space-constrained Singapore, people are willing to pay a premium to feel like they're not living in a shoebox.
That's why one of the most effective ways to increase your home value is to create as much space as possible.
First thing: declutter. Get rid of all those old magazines and books. Too many clothes and shoes lying around? Carousell, here we come.
That broken coffee machine and ratty old chair can go as well.
Be ruthless. The more you declutter, the more welcoming your home will be to prospective buyers – and the less stuff you'll have to move to your new place!
Once you've cleared out all your junk, consider home improvements that can brighten up the place. These may require you to spend a small sum, but will attract buyers who are looking for move-in ready home – it's a huge added value for these buyers.
For instance, good lighting and ventilation can make a world of difference.
Change out those retro ceiling lights for something more modern. Consider installing more ambient lighting if your home is a bit dimly lit at night – you don't want the buyers to feel like they're walking into a dingy room.
Mirrors and sheer curtains (also known as day curtains) help to reflect and let more light in, which add to the feeling of openness.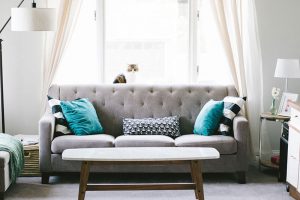 You also want to make sure you paint the house if you haven't done so recently. You may have gotten used to the scuff marks, lizard poop, and discolorations over the years, but these are things that buyers will notice when they walk through the place.
And don't forget to paint the ceiling – a fresh coat of white paint will help liven the place considerably as well.
2. Do the Needful – and Clean Up
Ever walked into the back kitchen of an eatery in Chinatown?
As you can imagine, the smell of frying oil and sauces doesn't make it a pleasant place to stay for long.
The same goes for your kitchen. Clean up those greasy hoods and stovetops. Wipe down the backsplash and walls so there are no visible stains. Mop those sticky floors and clean all your appliances.
But don't stop there: go through the rest of your house too. Scrub those bathroom sinks and shower areas 'til they sparkle. Make sure there's no mold, mildew, or unsightly calcium/limescale deposits.
You want the buyer to be able to visualize making a home there – not feel like they have a ton of cleaning up to do.
If your place is old, consider doing a refresh of your tile grout and caulking as well. The materials are inexpensive, and it's even possible to do it yourself (with the help of YouTube and a few tools).
3. Spruce Up Your Kitchen
For many buyers, the condition of the kitchen is a deal breaker as this is where much of their renovation expenses will be concentrated.
To be clear: You don't need to spend tens of thousands remodeling your kitchen just to put your house up for sale. Taste is subjective. Even if you get all the latest stainless steel appliances or replace your countertops with quartz, it doesn't guarantee that buyers will love your kitchen.
But you do want to make sure the kitchen looks well-maintained and spacious – not run-down and messy.
So after you've done your deep cleaning, fix those broken cabinet hinges or door handles. They're inexpensive to obtain and replace yourself, and they'll help give your unit a slight competitive edge in the market.
Clean any ceiling lights and fans – and definitely don't leave dirty dishes lying around (either in the sink or in the dishwasher).
If you've got the budget for it, consider doing up the wall behind the stove as well. For instance, a tiled or tempered glass backsplash makes the area far easier to clean up and gives it a fresh new look.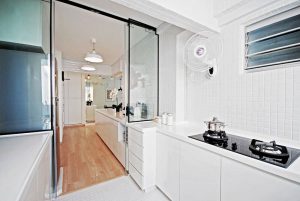 Put away all those appliances – save for a bowl of fruit or other decorative items. The fewer personalized items you have around the kitchen, the better. (Yes, that includes your fridge magnets.)
After that, do a thorough reorganization of your kitchen. Rearrange your spices so that they're evenly stacked and neat. Put away those sauces and turn all your mug handles facing the same direction. Buyers will notice your attention to detail and assume it extends to the rest of the house.
If you cook at home a lot, consider dining out while your house is on the market. Many buyers are turned off by the smell of food, so you don't want them to walk into a house smelling of har cheong kai.
4. …And the Bathroom As Well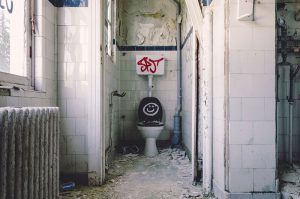 Likewise, the bathrooms also constitute most of the renovation expenses.
Check that the shower heads, toilet bowls, flushing mechanism, taps, and bathroom cabinets are in excellent condition and working as they should. If your toilet seat is yellowed or cracked, replace it with a new one.
Clear the drain and pipes of any chokage. If your property is older (15+ years), you may want to consider replacing the piping as well – old pipes generally start showing problems at this point.
Also, if your bathroom or cabinet doors are made of wood, check for holes or wood swelling. These may indicate water or termite damage. If there are any sun spots or faded areas, give it a good coat of varnish to touch it up.
If you've got an HDB flat and use a bi-fold door for your toilet, make sure this can open and shut properly.
5. Fix Any Defects
As we noted in our article on how to value and price a home for sale, extensive renovations don't affect the official value of a home – but the level of maintenance does.
Plus, every buyer has the right to do a thorough inspection of your home before signing the Option to Purchase (OTP). This means you'll want to make sure you get the problems fixed beforehand.
If these defects are still present at the time of the inspection, the buyer can use these as bargaining chips to knock down the price significantly. Worst case scenario, they'll back out of the purchase.
Also, given that Singaporean buyers are now spoilt for choice in the real estate market, you want to make sure your home has a competitive edge to get it sold fast. So all those minor repairs you've been putting off? Time to get those done.
You'll also want to check for the following:
Faulty door hinges/locks
Peeling paint (possible moisture build-up there)
Air conditioner leaks
Seepage around the windows
Malfunctioning electrical outlets or light fixtures
Corroded circuit breaker contacts
Leaking kitchen or bathroom pipes
Poor water flow from taps
Toilet tank doesn't fill up completely upon flushing
Windows that won't open or shut properly
Termites, bed bugs, and other pests
These are particularly true if you own landed property, which typically require far more upkeep compared to condominiums and HDBs.
The best way to approach this is to make a list of all the fixes needed. Then, set aside a moderate budget and carve out the time to tackle these slowly.
Take advantage of major sale periods such as Labor Day or the Great Singapore Sale, as you can get many of the necessary parts at a huge discount.
If you're in a hurry, you can hire a contractor to do it all in one shot – but it'll cost you significantly more.
6. Buff Up the Flooring
Notice how buyers tend to look down at their feet when checking out your property?
They're not just checking for cleanliness. The maintenance of your flooring can make a huge difference in the overall aesthetic of your home.
You'll definitely want to refinish any chipped, worn out, or severely scratched up flooring. This is usually a relatively inexpensive fix compared to, say, changing out concealed pipes. Grinding and varnishing parquet flooring only costs a few hundred, for instance.
Alternatively, you can swap out the existing flooring for something that looks bright and clean – yet also affordable and easy to maintain. Ceramic and homogeneous tiles are among the cheapest options available at about $2 or $3 psf.
7. Deodorize – Especially If You've Got Pets
We know our furry friends are oh-so-lovable, but do make sure you do an extra-thorough cleaning if you've kept any pets. You may have gotten used to the smell after so many years, but you certainly don't want prospective buyers to wrinkle their noses and grimace upon walking into your home.
If you've carefully maintained the place and cleaned up after your pets all the while, it may just be a simple matter of putting some baking soda and vinegar in the affected areas. Otherwise, you may have to get a professional cleaning company to help.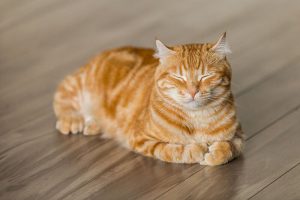 You'll also have to look in all the nooks and crannies to make sure you get the shed fur. We've heard stories of people cleaning up cat fur years after the animal was gone, so pay extra attention to detail here. If the buyers (or their children) have any fur allergies, this is a huge turn-off!
This article by Qanvast may also help in diagnosing where those smelly odors are coming from.
8. Change Out the Door and Other Fixtures
The front door is the first and last thing that people will see of your place, so you want to leave a good impression there as well.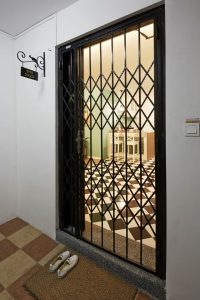 Do a quick check: Does the grille gate need to be repainted? Do the hinges work well? With just a can of paint, some WD-40, and a few other tools, you should be able to fix these easily.
How about the main door? Is the lock rusty and tricky to open? Is the wood swollen or faded in any part?
You can also take a cue from your neighbors' doors. The idea is to spruce up your front door so it stands out from the rest. If you can't afford to replace the whole door, even smaller things like getting a new house number sign would help.
This may also be a good time to take inventory of the other fixtures in your house – such as the air-conditioning units.
Sanyo, for instance, went out of business partly because of a major problem in their air-conditioning units. But air conditioners generally only have a lifespan of about 12-15 years, so if yours are older than that, you may want to consider replacing them.
Alternatively, you can also replace a few main lighting points with energy-efficient fixtures such as ceiling fans. For example, wooden fans are eye-catching and can serve as the centerpiece of a room. Not only does this add to the elegance of your home, but it also helps with ventilation and a feeling of openness.
9. Maximize Living Space
While this is similar to point #1, it bears repeating given that space is a highly coveted commodity in Singapore.
Essentially, after you've decluttered, repainted, and cleaned up your home, give some thought to rearranging your existing furniture.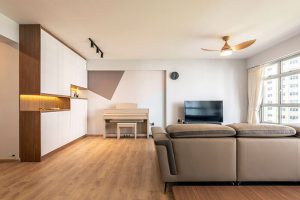 You want to give buyers a better idea of how much space there really is in your home – including the storage areas.
This slideshow from Better Homes & Gardens offers several tips on how to arrange your furniture and decorate your home to maximize your living space.
10. Tidy Up the Garden (If You Have One)
This is only applicable if you have landed property with a garden or backyard, but we added it in just to be thorough.
There's no need to go overboard with the landscaping, though. If you have a beautiful garden, great – but if you haven't got much of a green thumb, don't fret.
Buyers will have their own preferences for how they want to do up their gardens and backyards, so just tidy up your plants and cut the grass.
11. Stage Your Home
Home staging isn't a new concept. Realtors in the United States have been doing it for decades – with proven results.
In fact, according to Realtor.com, a staged home sells 88% quicker and for 20% more than an unstaged one.
Granted, it does require you to spend a few thousand. But in the U.S. and Australia, people are more than willing to do so — because they know they can get back that entire sum and more. After all, staging attracts buyers who are willing to bid high for a beautiful home.
"But does this really apply in Singapore," you wonder.
Actually, yes. It's a fairly new thing in Singapore, but a few select real estate agents have been adopting the method with considerable success.
One Singaporean real estate agent notes that "buyers are more likely to pick a spruced-up home over a messy one, even if its price is slightly higher. A cluttered house is not visually appealing and stays on the market longer. The longer the house stays on the market, the more likely it will sell at a lower price." (Source: The Straits Times)
Given that buyers are now spoilt for choice with all the units on the market, it's not just about getting the highest price possible. Home staging helps to ensure that your house is sold fast.
But if you're on a limited budget, you can also stage your own home. Realtor.com has an excellent article filled with tips on how to do just that.
12. Take Great Photos
You've put in all that time and effort, so you definitely want to make sure the buyers know it.
One simple way to get the message across is by taking Pinterest-worthy photos of your home.
Get all of the miscellaneous barang barang out of the way, figure out the best angle for lighting, and snap those perfect high-res shots.
In a sea of property listings, sometimes the only thing that will make buyers click through is a good photo. Our professional photography provided to our sellers helped to sell their home not just at record time but also at a better value.
This is where Bluenest's real estate agents can help as well. Not only will they figure out the best angles to frame your home, but they'll also craft a compelling description for your listing. These will then be showcased on all the major property listing websites and social media channels.
Still think that doing the above is a hassle? Speak with our real estate experts today to find out more about your home value and how we can fetch a better selling price for you.