A lot goes into pricing your property for sale in Singapore. You don't want to shortchange yourself by listing at too low a price, of course. But you also don't want to quote too high a starting price, lest your property be unsold for many months. You must be thinking how to accurately retrieve your property valuation.
Recent transactions give you an initial gauge, but then there are other questions to consider.
For instance, what if you've recently renovated your home?
What if you have one of the rarer property types – and there are no other comparable units for sale in your area?
Is it really necessary to get a property valuation report?
We answer these questions – and more – in our full guide on how to accurately value and price your home for sale in Singapore.
Q: How do I check the recently transacted prices for my area?
HDB:
Fortunately, the gahmen has made it easy for you with the HDB resale portal. This allows you to look up the prices of recently transacted HDB flats in the vicinity. It'll list floor levels, floor area and unit type, and the tenure (or the number of years left on the lease).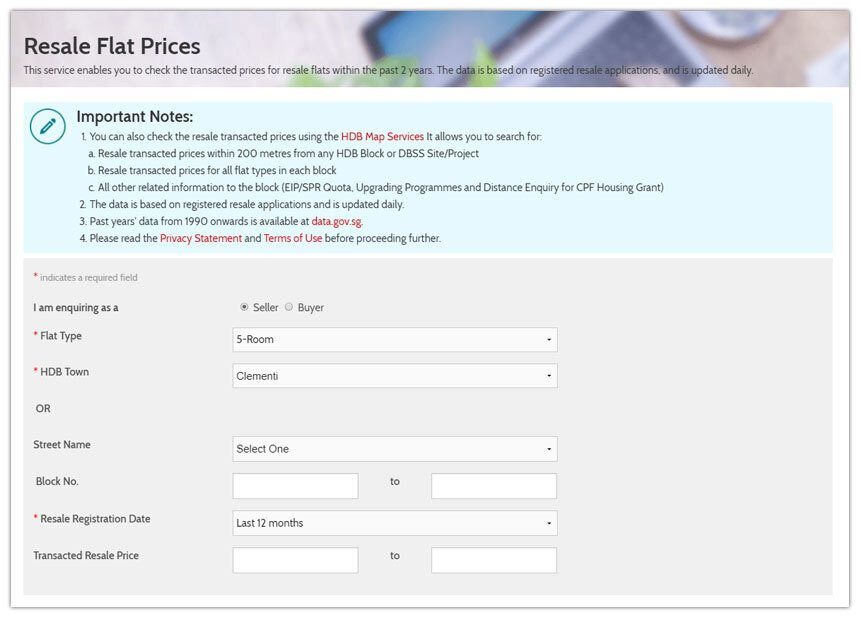 Private Property:
The URA has a similar tool. Bear in mind that the results listed are the closing prices, so these may have been haggled down a bit.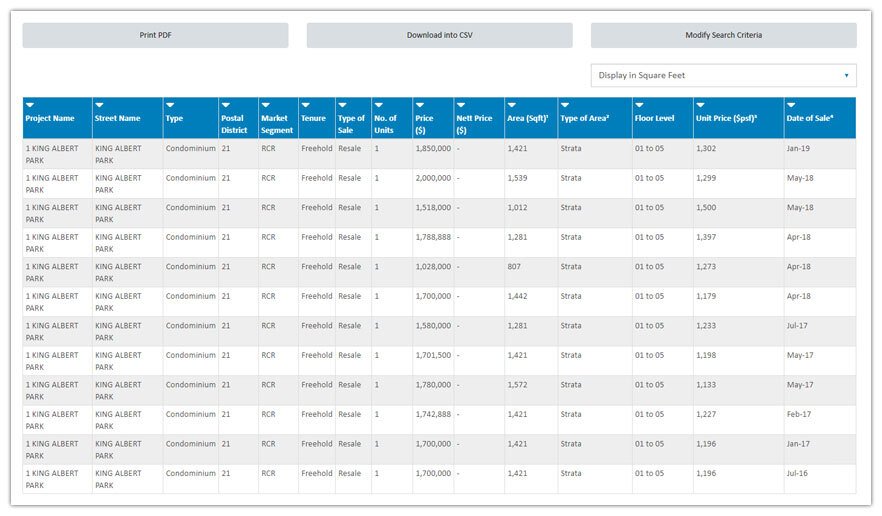 When you're using these tools, make sure you know the details of your own property so you can compare similar listings. For instance:
Size (square meters if HDB, square feet if private property)
Property type (rarer units such as Executive or DBSS flats fetch a higher rate)
TOP date or remaining lease
Tenure (e.g. freehold or 99 years)
Facing or orientation (a north-south facing tend to be favored)
Q: What if there are no recently sold units in my block?
If there are no recent transactions in your exact block, check nearby blocks for units of a similar size, layout, and floor level.
But if there aren't any similar units being sold in your area, then things may get slightly trickier. This is where a Comparative Market Analysis (CMA) comes into play.
Essentially, you're looking at all the sales of comparable properties. These could be in the area or in a similar neighborhood nearby.
Then, you add or subtract value for whatever differences there may be – like if your unit has a larger floor area or if it's a few years older.
Note that you do need to know quite a bit about the neighborhoods and properties to do the CMA well. Just skimming through the numbers without understanding the comparable properties can prove disastrous.
Q: Is it worth it to get a property valuation report?
If you took out a housing loan from the bank, they may have given you a valuation report. But these quoted figures can differ wildly because different banks use different processes – and sometimes part of the process involves guesswork rather than established standards. (Source: MoneySmart/AsiaOne)
Plus, banks usually give more conservative estimates, as they tend to price it at what they can quickly sell the property for in the event of a loan default.
This means it's worthwhile consulting a professional if you really want a more accurate valuation of your property. The Singapore Institute of Surveyors and Valuers allows you to search for these licensed professionals or firms.
Unfortunately, valuation reports don't come cheap. They'll typically set you back several hundred dollars – sometimes over a thousand. If you're looking for multiple quotes, be prepared to pay for it.
Alternatively, you can consult Bluenest's real estate agents for a Comparative Market Analysis (CMA). They'll do a deep dive into current market listings, recently closed transaction prices, pending sales, and withdrawn listings to give you a more reliable valuation of your property.
Q: What goes into a property valuation report?
As you'd expect, the report factors in details such as location, zoning, floor area, age, tenure, and the prevailing market conditions.
But contrary to popular belief, interior designs don't really affect the official valuation of a home much. There are even certain alterations that can detract from the value – like if you've knocked down any walls.
So all that time you've spent doing up the perfect Scandinavian concept? It may not count for much in the official report.
What does affect the valuation? Maintenance.
If you've got any leaking pipes, for example, it's best to fix these before putting your place up on the market.
Termites, mold, faulty electrical wiring, and ill-kept walls and floors are also big minuses. (Read also: 10+ Tips to Increase Your Property's Value — and Sell It FAST)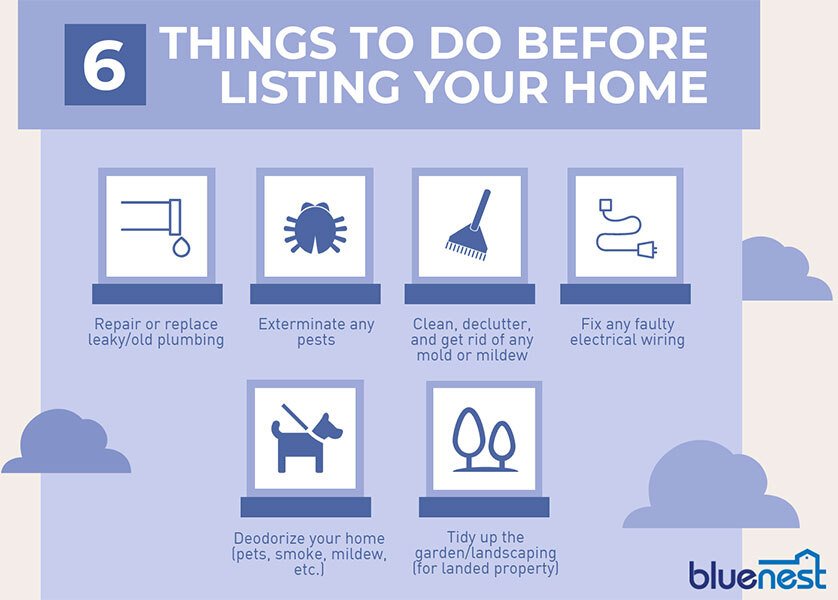 Other than the condition of the property, the appraiser will also look at the orientation of your unit and where it's located in the block. And if there's a new MRT line or shopping mall opening up in the vicinity, these will also be considered.
Q: If I'm selling a flat, could I get the property valuation report from HDB before setting a price?
Sadly, only the buyer can request for the valuation report. They'll need this to access their CPF funds or get an HDB loan for the purchase. They can only get it after you've issued the Option to Purchase (OTP) though.
This means that if you (as the seller) want to get an accurate valuation of your property before setting the price, you'll have to look elsewhere.
Q: So interior design doesn't affect the valuation of my home, but does it affect the price?
Yes! There's a difference between the official valuation from an appraiser and the perceived value (market rate) of a property for sale.
Ultimately, homes with designer décor will always sell a lot faster – and a lot better.
But you don't have to spend a fortune on designer décor just to sell your home. A fresh coat of paint, updated lighting fixtures, and refinished flooring can already transform the buyer's first impression of your home.
Replacing old pipes and updating the kitchen and bathrooms can also add value to your home, since these make up the bulk of the buyer's renovation costs.
That said, it does come with certain caveats.
For instance, garish wallpaper or overly bright color schemes are a no-no, of course.
False ceilings can also prove tricky. While these are excellent if you want to install recessed lighting, they can easily shave off 15cm from the height of the room. This also means that if you're selling an HDB flat, the buyers won't be able to install a ceiling fan without hacking the false ceiling.
Also, having lots of built-in furniture may work against you. If buyers don't like it, they'll have to bear the cost of removing it.
In short, whatever design choices you make, these must be tastefully done with the mass market in mind.
And don't forget to clean and declutter – this makes a huge difference in how potential buyers perceive the value of your home during the viewings!
Q: What other pricing tips can you give me?
Once you've got a price range for similar properties in your area, price yours around the median. (Read also: How to Sell Your HDB Flat — with All the Costs and Steps!)
For example, if most comparable units are going for 800k or 820k, go for 810k instead. This makes your unit stand out from the crowd, so buyers are more likely to click on the listing.
Also, if you're at one of the price break points (e.g. $1,000,000), consider pricing yours a tad lower – say, $999,000.
One final note: if your property has been on the market for many months, it would also be wise to think about reducing the price. One way to do this is to drop to the next best price range to put it back on the radar for buyers with that budget.
For instance, say you're hoping for 600k for your Punggol HDB. You've priced it at 630k to leave room for negotiation. It may be worthwhile dropping your price to 599k, so that buyers with a 600k budget will see the listing pop up in their search results.
What other questions do you have about how to price your home for sale? Let us know in the comments!