Should I get a BTO or Resale property?
This is a hot topic among property buyers on whether they should go for Build-to-order (BTO) flats or resale property. Reported by the Housing Board in October 2021, buyers of flats in 17 Build-To-Order (BTO) projects completed and delivered during the Covid-19 pandemic faced additional waiting time of six months or less. Furthermore, it is said that the remaining eight BTO projects were delayed by between seven and 10 months. BTO delays are no longer a myth today.
If you are deciding between BTO or Resale property, read on as we outline the multiple factors that you need to consider to help them make the optimal decision.
A. Build-To-Order (BTO) flats
BTOs are new HDB flats with a 99-year lease. New BTOs flats are launched every quarter and as the name suggests, the building of the project takes place after the launch. To purchase a BTO flat, potential buyers need to ballot through the HDB portal and successful applicants would get a queue number. Upon selection of flat, eligible buyers have to wait up to 5 years for the before getting their keys.
Who is eligible?
At least 1 Singaporean citizen
Individuals without any other existing properties (or have disposed of any properties in the last 30 months)
With the above 2 conditions fulfilled, you have to apply as one of the following:
Family nucleus
Engaged couple (parental consent required if below 21 years old)
Orphaned siblings (all single)
Singles or Joint Singles (1 to 4 Singaporeans, age 35 and above. 2-room flexi flat only)
Couple with one non-citizen spouse (2-room flexi flat only)
Pros of BTO:
Low price for 99-year lease
Less cash down payments
Capital appreciation
Minimal renovation cost
Low price for 99-year lease
The most attractive feature of BTOs is that they are relatively cheaper than resale flats which are sold by owners looking for capital gain. As BTO flats are heavily subsidized, this helps property buyers (especially young couples) to be able to save a large sum of money. The average cost of a 3-room price BTO ranges from $160k to 420k whereas older resale HDB ranges from $350k to $380k. Paying less for a newer and longer lease term is definitely tempting and a lucrative deal!
Less cash down payments
As a BTO buyer, the only cash payments you need to fork out are
Application submission fee ($10) and
Option fee (option fee can be refunded if you have enough CPF)
Under the Staggered Down Payment Scheme, it allows BTO buyers to only have to pay the 10% in 2 installments,  5% cash/CPF upon signing the agreement, and the next 5% a few years later after collection of the keys. This means that buyers can pay the down payment with full CPF without touching cash.
For a resale HDB, the cash buyers have to pay sellers include, option fee (usually $1k), the deposit of up to $5000 as well as 5% of the 20% down payment in cash if buyers take up a bank loan. Additionally, cash-over-value (COV) for resale HDB needs to be carefully considered to ensure buyers can afford the cash outlay. Sellers should ensure they have done a thorough financial calculation with their agent to ensure they can afford the property.
Capital appreciation
Once the 5-year Minimum Occupation Period (MOP) is up, BTO owners can sell their BTO. 15% to 20% of BTO flats owners chose to sell or rent out their BTO within 2 years after MOP. A seller who sold their BTOs in the Punggol and Sengkang region managed to profit $320,000 and $310,000 respectively. HDB upgraders are more likely to do this and use the proceeds to purchase private property.
However, it is important to note that as more BTO projects start to launch and supply increases, it is expected that capital gain will start to decrease as BTO prices start to increase. The price of the latest May 2021 BTO lunch Garden Bloom @ Tengah ranges from $113,000 to $495,000 which is close to $500,000, equivalent to a resale HDB price.
Minimal renovation cost
As owners of new BTO flats will be the first-time owners of the flat, the flat will be in a brand new state ready for buyers to move in. As such, buyers do not have to conduct any major renovation unless they would like to hack down walls or make some changes to the flat orientation to suit their personal preferences.
Unlike resale properties which may be passed down from 1 or 2 previous owners, the condition of the property is likely to be much older and worn out as compared to a brand in BTO flat. Thus, buyers will have to set aside some money to fund renovation works. Minor renovation works (whole house) range from $10,000 to $20,000 while extensive renovation works may cost up to $100,000 or more.
B. Resale property    
Pros of Resale:
Shorter waiting time
Larger property size
More grants available
Shorter waiting time
One key selling point of Resale HDB is the shorter waiting time. As many would say, time is luxury. Couples that cannot afford to wait 4 to 5 years before the key handover of BTO flats can consider resale property as another "affordable" alternative. BTO projects are announced to be delayed by at least 6 to 12 months in the midst of the covid pandemic which makes things much worse for couples who intend to settle down and move in as soon as possible.
As such resale flats would be the solution to this frustrating issue of long waiting time. It only takes up to a few months to a maximum of a year for resale flats to be ready for move-in. In fact, the resale application process is not as complicated as it is! Read here for the HDB Resale Procedure [The Buyer's Step-by-Step Guide].
It could take as fast as 2 days to pen down on the property you fall in love with! (we sold a resale HDB in just 2 days).
Larger property size
Resale properties are generally larger than new BTO developments. The average size of a 4 room resale HDB is 95 to 105 sqm, where BTO is only 90 sqm. For individuals who prefer to have a bigger space to allow for customization of space in their homes can hence consider buying a resale property. A larger space also allows for the addition of extra space or room for recreational purposes such as a gaming or fitness corner and also a walk-in wardrobe.
Properties like Executive Apartment stands at 142-146 sqm (ONE floor) and Executive Mansionette stands at 147-160 sqm (TWO floors) are highly sought after. Today, a well renovated Executive Mansionette is akin to a landed property! It is unfortunate that Executive properties are no longer built by HDB and you can only get them from the resale market.
More grants available
Lastly, there are more grants that are applicable to resale flat buyers than BTO buyers. For those intending to purchase a resale property, they are eligible for –
Family Grant – up to $50,000
Half- Housing Grant
Top-Up Grant
Enhanced Housing Grant (EHG) – up to $80,000
EHG (Singles)
Proximity Housing Grant (PHG) – up to $30,000
Read more about CPF Resale Housing Grants here!
Whereas for BTO applicants, there are only eligible for –
Enhanced Housing Grant (EHG) – up to $80,000
EHG (Singles)
Step-Up Grant – up to $15,000
The additional grants for resale flats applicable for resale property can help save up on the loan amount that needs to be taken and reduce the down payment payable, ensuring the affordability of resale flats.
In summary,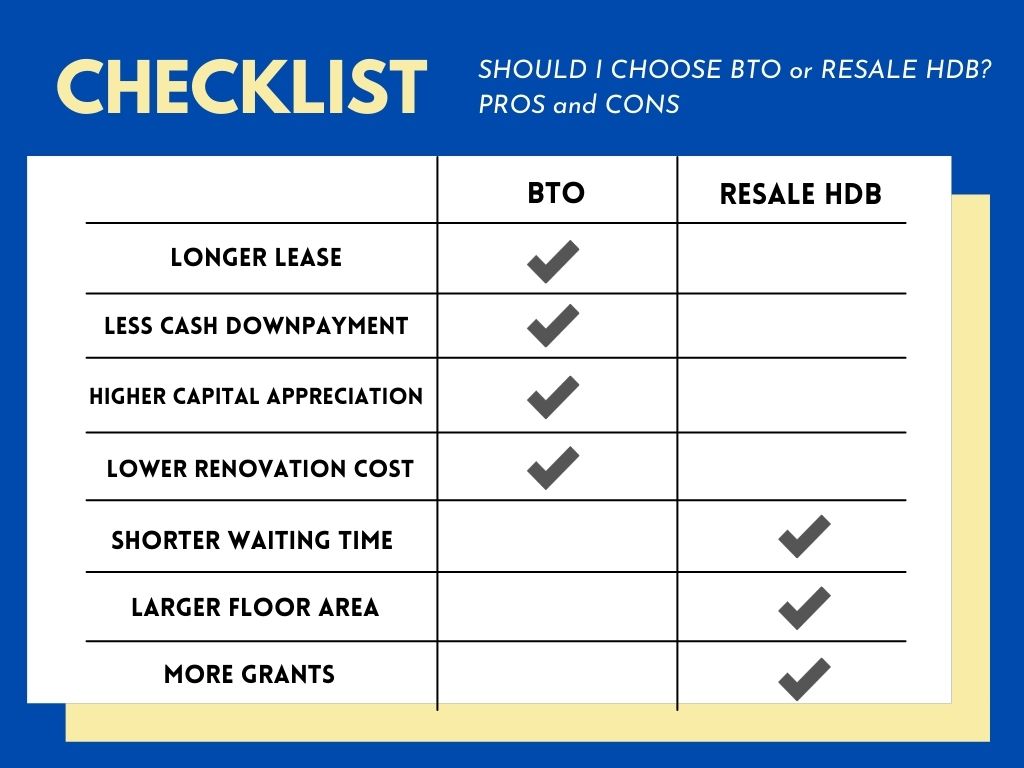 Both BTO and resale flat have their respective pros and cons. Which is better is a subjective question and the answer would greatly depend on the needs of different individuals. To determine which is better for you, it is crucial to look through the respective pros and cons of both Resale HDB and BTOs and see which factors are considered a priority for you.
Those who do not have the luxury of time to wait, and desperately need a home to move into shortly may wish to settle down with a resale flat. For individuals who are still young (e.g. eligible students) planning to apply for a future home with their partner but still have some time to spare can consider balloting for a BTO to enjoy the cheaper property price and potential capital appreciation of their flat in the future.
At Bluenest, we sell our properties faster, better and more efficient than the other agents in the market. This is the result of our AI tools, personalized marketing strategy & top-notch agents. At only 1% commission fees, you get to enjoy best-in-class service and expertise!
Speak to us at +65 3138 2553 or simply drop us a mail at hello@bluenest.sg
Check out our HDB success stories:
Choose the right blue. Choose Bluenest.
Your trusted advisor, all the time!