Selling and buying an HDB flat at the same time can be complicated. Most families upgrading their flats worry about things like:
Whether the sale proceeds will get to them in time to pay for the next flat

Whether they'll have enough time to find a new place

And whether they'll be left homeless in the interim
Most of the time, we depend a lot on our property agent's expertise. Unfortunately, there are also many horror stories of agents not being able to coordinate both the sale and purchase timelines or advise their clients properly.
That's why we've broken down the selling and buying process into four major phases.
We'll guide you through the whole process, from registering your Intent to Sell to completing the sale and moving into your new home.
The Standard Timeline for Selling and Buying HDB At the Same Time
We'll get into the most common scenario first – a family who's selling and buying at the same time, and who require the sale proceeds from their old flat to pay for the new one.
Afterwards, we'll discuss the common complications that come up and how to resolve them.
Phase 1: Checking Eligibility and Registering Intent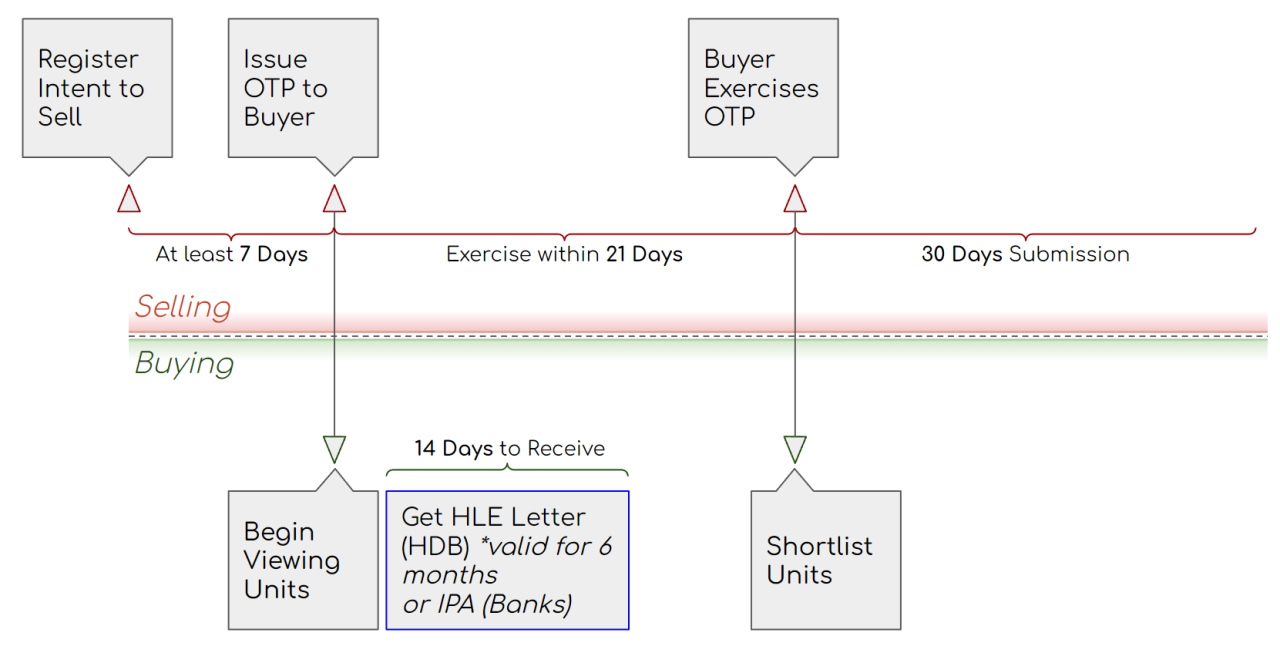 When you're ready to sell your HDB flat, you'll have to register an Intent to Sell via the HDB Resale Portal. Here, HDB will direct you to download their OTP.
You'll have a 7-day cooling-off period from the time you register your Intent to Sell until the time you can issue the OTP to a potential buyer. This Intent to Sell is valid for one year.
During this time you'll probably be busy with home styling and staging, marketing the flat, and hosting viewings.
Read also: How to Sell HDB – 5 Lessons We Learned from Record-Breaking Flat Sales

Phase 2: Issuing the Option to Purchase
Once a buyer makes a satisfactory offer, you may issue the Option to Purchase and collect the OTP fee. You can set this anywhere between S$1 – S$1,000.
Reminder: Unless you've already got another place to stay, you'll likely need an Extension of Stay. You should request this while negotiating the sale price with the buyer, before you issue the OTP.
The buyer has 21 calendar days to exercise the OTP, during which you can't issue any other OTPs. At this point, the buyer will get an official valuation if they need a home loan or the use of their CPF monies. Before the 21st day, they'll either decide to exercise the option or let it expire.
But it isn't just a waiting game for you. Since you now have a rough idea of what the market will pay for your house, you can start window shopping to narrow down what you'd prefer in your next flat.
Read also: HDB Resale Payment Timeline: How to Plan Your Cashflow
If the buyer exercises the option, you'll collect the rest of the deposit (anywhere between S$1 to S$4,000). Combined, the option fee + exercise fee should total no more than S$5,000 regardless of the sale price of the HDB flat.

Phase 3: Resale Application Submission + Shopping for a New Home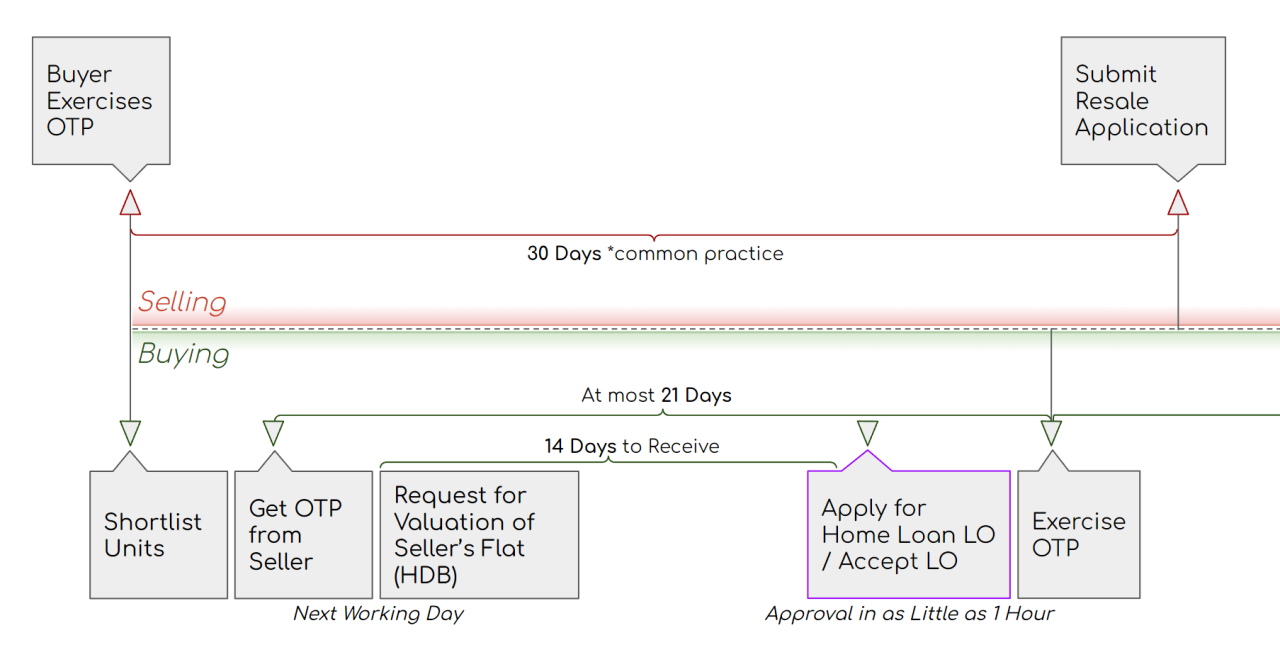 Buyer exercised the option? This is where things get exciting. You now have to:
Go for home viewings and shortlist units you like.

Register your Intent to Buy if you haven't already.

Discuss with the buyer when to submit the Resale Application.

Get your home loan sorted.

Submit the Resale Application along with the request for an Extension of Stay
Deciding on the date to submit the HDB Resale Application is important. It determines how much time you'll have to find and finance a new home.
The market standard is to submit the HDB Resale Application 30 days from the option exercise date. Officially though, there's no limit as long as the buyer is agreeable.
If you think you'll need more time to find a new place, you may want to negotiate for a later Resale Application submission date. This is up to the buyer to grant, since they may need to redo the HDB valuation or loan approval if you drag out the process too long.
Also note: while the HLE from HDB is valid for 6 months, an In-Principle Approval (IPA) from the bank is only valid for 30 days. It's easy enough to get another IPA if you don't find a place within the 30 days though.

Phase 4: Buying Your New Home + Completing the Sale of Your Old Home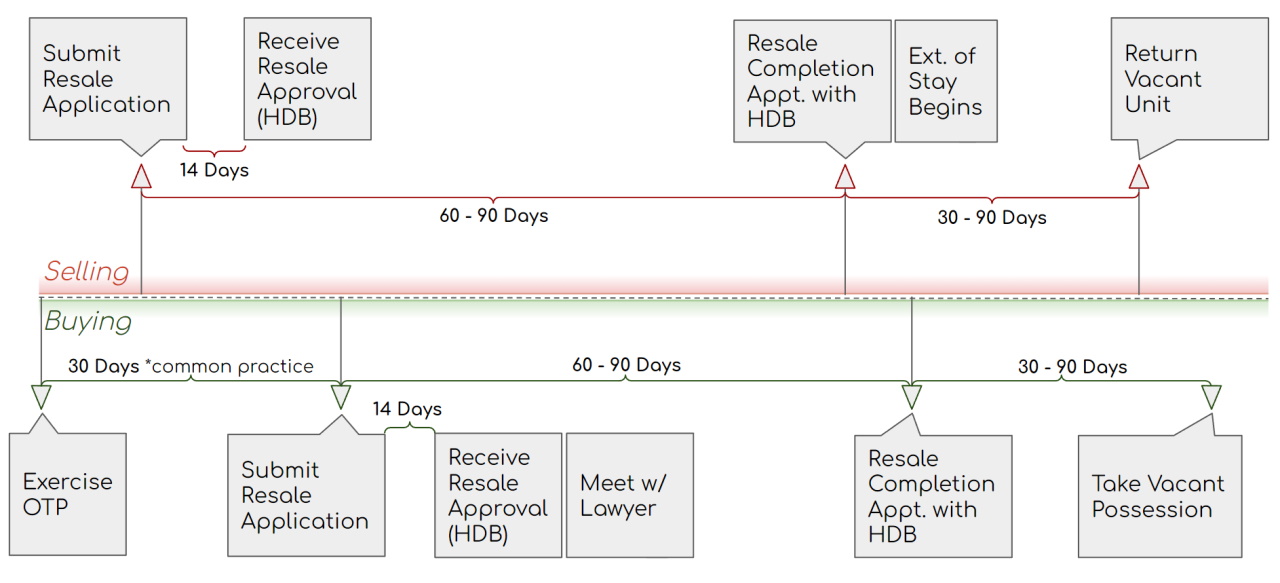 In an ideal scenario, you'd make an offer for a new HDB flat before submitting the Resale Application for your old place. That way, there isn't too much of a gap between the sale completions for your old and new place.
As with the previous process, you need to negotiate a date to submit the Resale Application. If you require the sale proceeds from your old place, chart out your timeline accordingly.
You'll get the cash proceeds (if any) from the sale of your old place at the HDB Resale Completion Appointment, after taking off CPF refunds, home loan repayments, and so on.

The Challenges That May Come Up
Phase 3 and 4, in particular, are where the timeline can get tricky. Here are some of the more common concerns we see:
Challenge #1: You're worried that you can't find a new home in time.
In most cases, you'll only have 30 days to find a new place after the buyer exercises the option for your old place. That leaves many sellers worried that there isn't enough time.
A good agent would know how to negotiate with the buyer to find a timeframe that isn't too rushed for you. But in the event the buyer decides to stick with the market standard, here's what to do:
Solution
Break down the 30 days into four weeks.

Assuming you have a full-time job, you'll likely only be able to go for home viewings over the weekends. If you set aside two hours a day for these viewings, you should be able to fit 3-5 viewings per two-hour slot.

Over those four weekends (or eight days), you'll be able to view

a max of 40 units

.
In our experience though, most people decide on a place within 10 or so viewings. From that perspective, having four weekends gives you more than enough buffer to find your new home.
Challenge #2: You need your CPF monies to purchase the new flat.
Once your old flat has been sold, you'll get the cash proceeds at the HDB Resale Completion Appointment. However, CPF needs another two weeks to process the refund – and another week before you can use the CPF funds to purchase a new place.
That means you have to turn over the keys to the buyer 3 weeks before you have the actual CPF funds to buy a new place.
Solution
This is where it's important to use private lawyers and apply for an Extension of Stay in advance.
Unlike HDB conveyancing officers, private lawyers don't require your CPF funds to actually be back in the account. They can make the necessary arrangements so you can submit the Resale Application for your next flat purchase before the sale completion for your old place.
Challenge #3: You can't get a Temporary Extension of Stay.
Whether the buyer refuses to grant one, or your agent simply forgot to mention it upfront – this isn't a fun situation to be in. It means you'll have to hand over the keys for your old place without being able to move into your new place yet.
Read Also: Extension of Stay HDB: Traps to Avoid to Protect Both Sides
Side note: This is also likely why some seller agents try to bully buyers into granting an extension long after submitting the Resale Application. It's illegal and could get you into serious trouble.
Solution #1: Use HDB's Enhanced Contra Facility
HDB's Enhanced Contra Facility allows you to bypass part of the waiting period when you're selling and buying a resale flat at the same time.
However, out of the three parties (buyer of your existing HDB flat, you, and the seller of your new HDB flat), only one can use the HDB Enhanced Contra Facility. You'll have to chat with your buyer and seller to make sure this is the case.
As long as there's no existing bank loan involved, you can use the Enhanced Contra Facility. Also, note that all three parties must submit their respective Resale Applications within seven days of each other.
Solution #2: If You're Not Eligible for Contra, Use a Bridging Loan
If you used a bank loan for your initial purchase, you're not eligible for the HDB Enhanced Contra Facility. You'll need a bridging loan instead.
At the time of writing, banks in Singapore will only approve a bridging loan facility if you're taking a mortgage loan from them as well.
Be sure to tell the bank that you need the bridging loan on top of the mortgage from the start. If not, you run the risk of having to submit the loan application all over again because the bank needs to reprice the package.
If this is your only option, contact your bank as soon as possible and be prepared for a possible change in your loan terms.
Read also: 7 Misconceptions About Bridging Loans for HDB Upgraders
Solution #3: If All Else Fails, Rental
With a good agent, you should have more than enough of a buffer to not resort to this. We wouldn't recommend this route as the minimum rental for an HDB flat is 6 months by law.
That means there's a high chance you'll be stuck with a rental beyond your needs, costing you a fair bit at the same time. Short-term rentals are also harder to come by, so you might have to settle for a unit that does not suit your family's needs.