The real estate landscape in Singapore is on the cusp of exciting changes, presenting great opportunities for potential homebuyers and savvy investors. 
To meet the strong demand for private housing,  the Government will be increasing the supply on the Confirmed List. In total, about 100,000 public and private housing units are set to be completed between 2023 and 2025, providing significant support to address housing needs in the coming years.
The number of units on the Confirmed List for the 2H2023 GLS Programme will be raised to 5,160, up from the initial 4,090 units planned for the first half of the year, bringing the total supply on the Confirmed List in 2023 to 9,250 units, the highest level seen since 2013.

Compared to the previous year, the supply for 2023 is almost 50% higher, and it is approximately 2.5 times higher than that of 2021. Furthermore, the Government has made sites available on the Reserve List that could yield another 3,430 units if developers assess there is demand for them.
In this article, we will dive into the details of the housing supply situation in Singapore and specifically on upcoming Build-To-Order (BTO) projects and new condominium launches. We will examine factors like location, pricing and the impact of increased housing supply, offering a comprehensive analysis of market dynamics that will empower you in your decision-making processes.
Build-To-Order (BTO)
Build-To-Order (BTO) projects are a vital part to many young Singaporeans. Only in Singapore, it is often used as an informal way to tie down the other partner in a foreseeable marriage.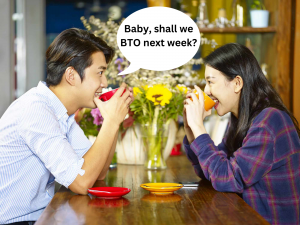 Apart from the draw of securing your partner together with a prospective house, BTOs are also known as subsidized housing which aim is to provide affordable and quality homes for aspiring homeowners. 
In 2023, there will be a total release of 23,000 BTO flats, 9,923 in the first half and 13,000 in the second half of 2023. Let's take a further look at the BTOs landscape for this year.
i. Past BTO Launches
In the May 2023 BTO launch, the flats in Bedok are competitively priced, with 4-room flats starting from $448,000 and 5-room flats from $588,000. This pricing strategy aims to attract potential buyers and cater to a diverse range of budgets.
Table 1: Flat Prices in May 2023 BTO Exercise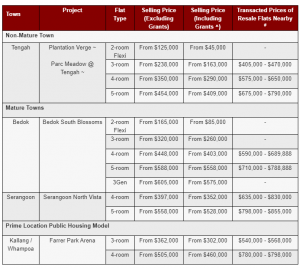 Image credit: HDB
Based on the last 2 launches (Feb & May 23) below table shows the starting price estimation based on flat type and town. Do note that these prices are based on historical data.
Table 2: HDB BTO Launch Prices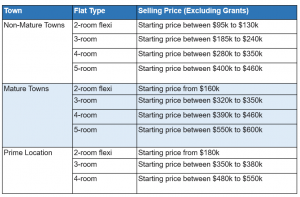 ii. Upcoming BTO Launches
To address the growing demand for housing, HDB has significantly increased the supply of BTO flats. The number of flats has been raised by 35% from 17,100 units in 2021 to 23,200 units in 2022, and is expected to reach 23,000 units in 2023, closely monitoring housing demand, ensuring a consistent and sufficient supply of flats. 
In Aug 2023, the Housing and Development Board (HDB) plans to release approximately 6,700 Build-To-Order (BTO) flats in various towns and estates such as Choa Chu Kang and Tengah in August 2023, followed by another offering of around 6,300 flats in towns/estates including Bedok and Bishan in November 2023. 
Table 3: August 2023 BTO Launch Projects (source from HDB portal)
New Launch Condos 
Apart from BTOs, the private property market is also set to witness new launches that cater to discerning homebuyers and seasoned investors. These projects often come up in highly desirable locations across Singapore. The pricing of these new launches is influenced by factors like location, unique features, and market conditions. 
For instance, The Reserve Residences is a luxurious condominium development coming up in Bukit Timah, offering opulent living, top-notch amenities, and unparalleled convenience, featuring direct access to Beauty World MRT Station and Bus Interchange.
i. Current Launches
Lake Garden Residences
Launched at slightly below $2,000 per square foot (psf), Wing Tai has expectations of rapid price escalation as units are sold progressively. For instance, one-bedroom-plus-study units spanning 527 sq ft are priced from $1.03 million ($1,954 per square foot), while three-bedroom units starting from 926 sq ft begin at $1.8 million ($1,944 per square foot).
Pinetree Hill
During the launch weekend, UOL-SingLand successfully sold 29% of Pinetree Hill, with an average selling price of $2,460 per square foot (psf). The developer initially released 400 units for sale at the same average price, resulting in a sales rate of 37.5% based on the number of units released.
Grand Dunman
During the launch weekend (July 15-16), Grand Dunman witnessed a strong demand with 550 out of 1,008 units sold, indicating a take-up rate of 54.6%. The average selling price achieved for the 99-year leasehold condo located on Dunman Road in prime District 15 was approximately $2,500 per square foot (psf).
ii. Upcoming launches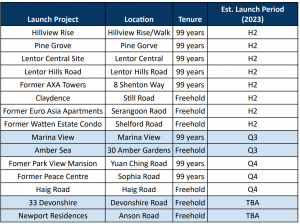 Impact of Increased Housing Supply on Buyers and Sellers: 
The rise in housing supply has a significant impact on how buying and selling play out in the market. More housing options give buyers greater flexibility and bargaining power, while sellers may face stiffer competition as they try to attract potential buyers. The increased housing supply will help to moderate price increases and stabilize the market in the long run.
In this scenario, sellers must position their properties strategically, emphasize unique selling points, and offer competitive pricing to stand out from the crowd. On the other hand, buyers need to carefully evaluate available options, considering factors like location, amenities, and potential for future appreciation, to make smart purchasing decisions. 
We also handpicked 2 articles for you:
Conclusion
Given the abundance of newly completed units and an increasing supply of both public and private housing, we are anticipating a further stabilization of property prices.