For HDB upgraders, new launch condos seem to have the best balance of affordability and potential capital appreciation.
But if you're hoping to buy the new launch before selling your flat, you may run into cashflow issues given the higher cash outlay and Additional Buyer Stamp Duty (ABSD).
Is there a way to avoid ABSD entirely? And how do you maximise your loan for the 2nd property?
Enter Deferred Payment Schemes.
What is the Deferred Payment Scheme (DPS)?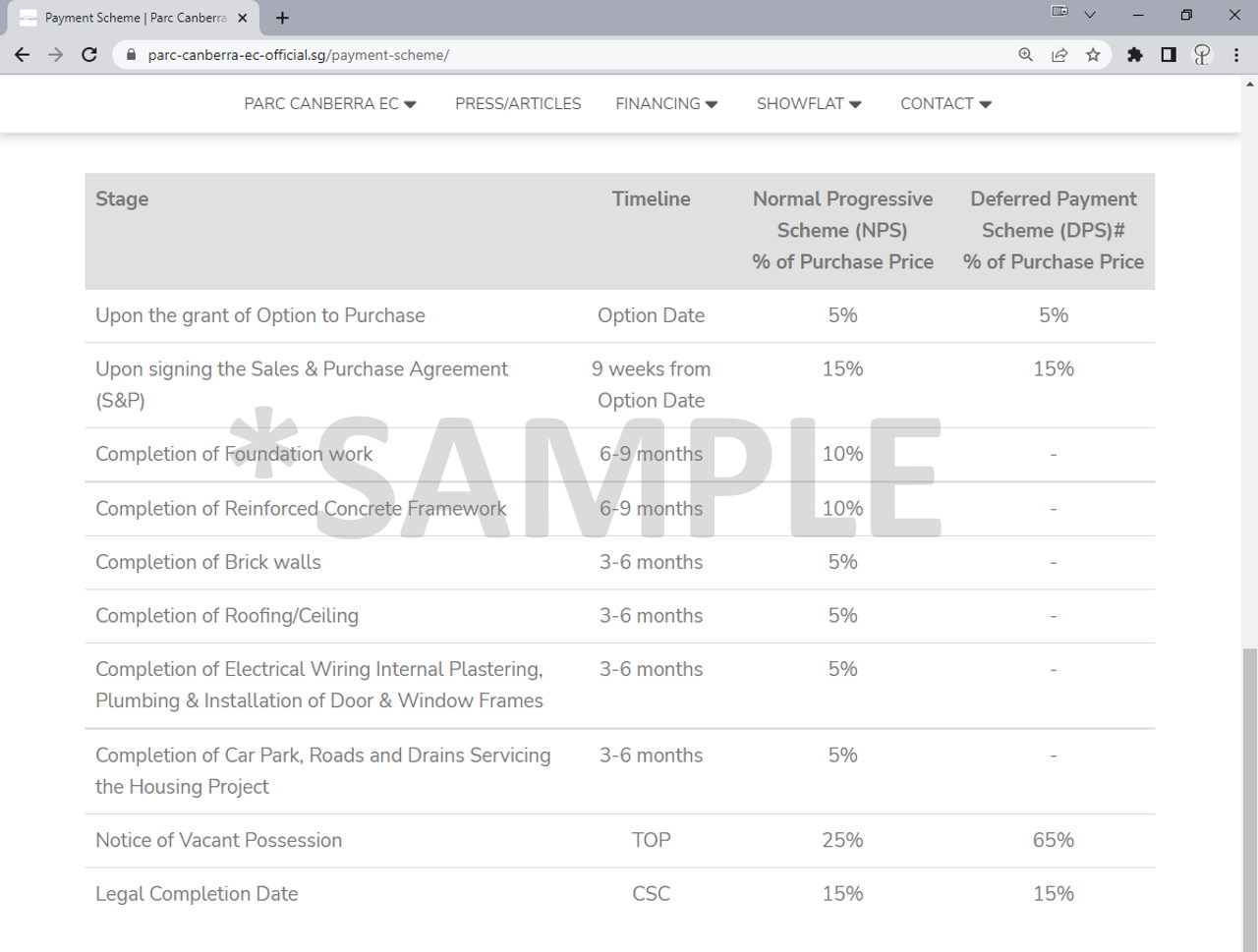 The Deferred Payment Scheme allows you to make a downpayment, and then pay the balance much later on (sometimes up to two years). It's available only with new launches that have already TOP'ed.
In other words: book now, pay later.
This is attractive to HDB upgraders who want to secure a new launch before they sell their existing property. It gives them much more time to sell, with the assurance that they already have their next home prepared.
Read also: From HDB to Condo – Can You Get a Dual Key Condo At a Discount?
On the developer's end, the scheme benefits them because it allows them to sell balance units more easily.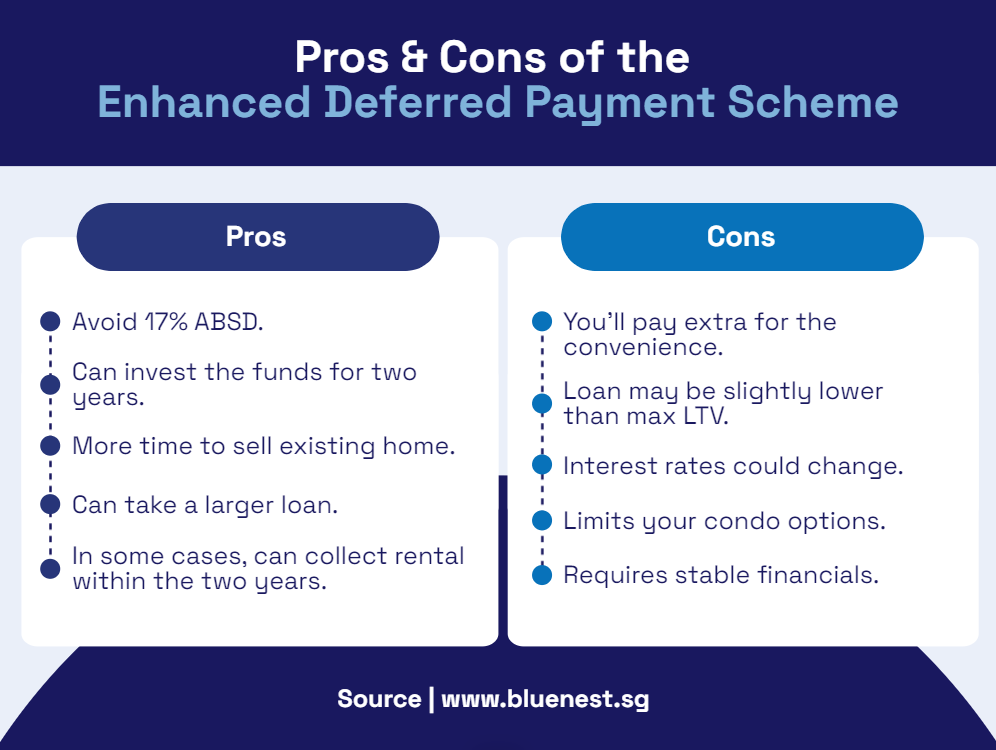 The Benefits of an Enhanced Deferred Payment Scheme
Don't have to pay 17% ABSD upfront,

as long as the buyer of your HDB (or existing property) exercises the option before you exercise the option for the new launch condo.

If you're financially savvy, you can invest and earn returns on the funds

you would have otherwise needed to pay in a standard Progressive Payment Scheme.

You have more time to sell your existing home

, receive the sale proceeds, and move into your new place.

Once you've sold your flat, you can take a larger loan

since you'll no longer need to service the mortgage for your HDB. Otherwise, your LTV ratio for the second property will be capped at 45%.

Depending on the terms of the purchase agreement, you may get a fixed monthly return for the new launch.

That means you can collect income to offset the downpayment for the condo.
The Cons of This Approach
Since you're essentially buying time, you'll pay higher prices

. There's usually a 10% markup from the original pricing.

The MAS

considers the Deferred Payment Scheme a benefit

, so banks will deduct this "benefit" from the purchase price when calculating the loan they offer you.

That means your home loan may be slightly smaller

than the 75% LTV ratio you would've gotten without the deferred payments.

If 2021 and 2022 were any indication, central banks are raising their interest rates – and home loan interest rates are following suit.

Two years later when you apply for the loan, you may find very different rates.

And along the same lines as #4,

your financial circumstances could also change in that time.

You'll need an iron rice bowl for the Deferred Payment Scheme.

Very few developers offer a Deferred Payment Scheme – and even fewer will defer the balance payment for two years. It also tends to be for the "leftover" units that haven't been snapped up (and there may be good reason for this).

This limits the available condos you can buy.
What to Look Out For with the Deferred Payment Scheme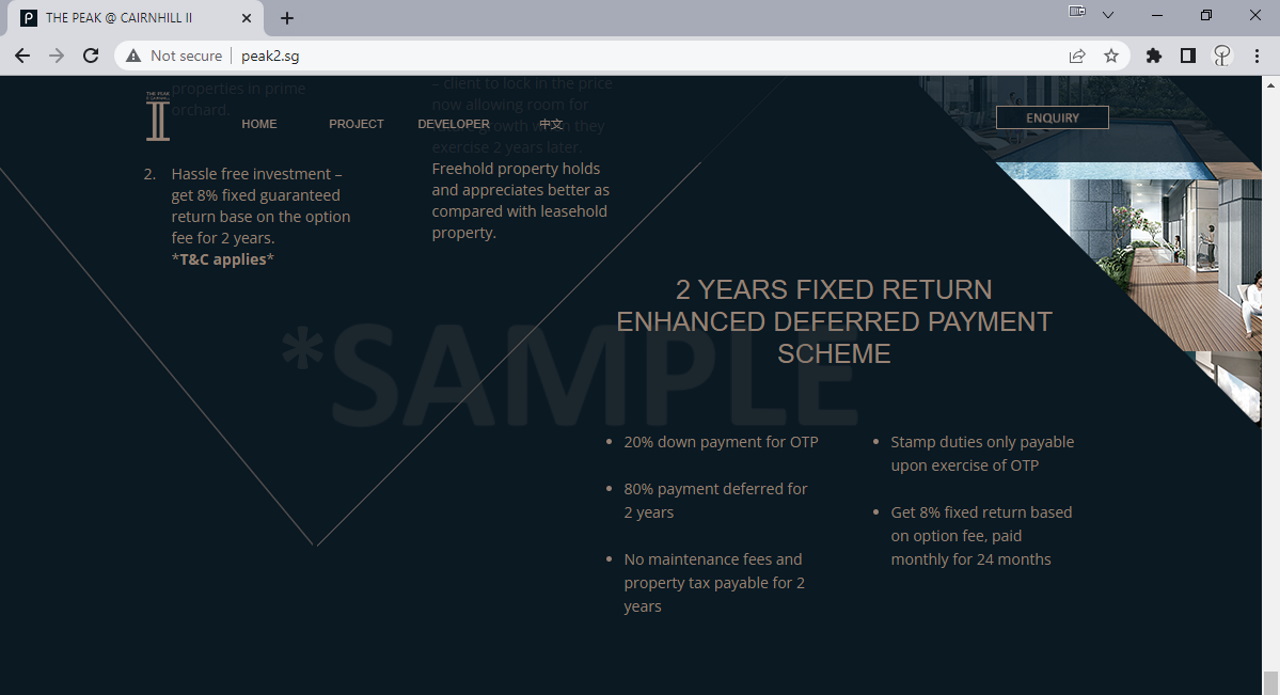 If you still have your heart set on the DPS, look at newly-TOP'ed condos (including in the last few years) with unsold units as a starting point. Many of these developers won't publish the DPS online, so you'll have to talk to the agents to find out if they offer it.
You'll then have to check out the terms of the agreement. Here are a few things to ask about:
1. How Extended Is the Option Period?
Most Deferred Payment Schemes only push the option period to 8 or 9 weeks.
But there's a rare version of the DPS (sometimes known as the Enhanced Deferred Payment Scheme) that allows you to exercise the option up to two years later.
This is ideal for those looking to escape ABSD and maximise their home loans. 8 weeks doesn't give you much of a runway to sell your existing property and move to the new place.
2. Who Pays the Property Taxes and Maintenance Fees?
Developers have been known to offer very favourable terms in this area. Look out for an Enhanced DPS that requires 0% property tax and no maintenance fees until you exercise the OTP.
Of course, you'll need to balance this with the other terms and conditions. For example, some developers may require a larger down payment in return.
3. Is Subletting Allowed – Or Are There Fixed Monthly Returns?
And in the same train of thought, are you allowed to rent out the unit in the interim? Alternatively, does the developer provide fixed monthly returns on your downpayment? You may have to negotiate with the representative agent on this.
Condos with an Enhanced Deferred Payment Scheme in 2022
As of the time of writing, these were a few of the possible condos that offered an Enhanced Deferred Payment Scheme:
1. Lloyd SixtyFive
TOP: 2017

30% down payment for OTP

Exercise and complete 24 months later

Pay no stamp duty, maintenance, or property taxes during this time.
2. The Line @ Tanjong Rhu
TOP: 2016

20% down payment for OTP

Exercise and complete 24 months later

Master tenancy agreement issued under the buyer's name so you can rent out the unit.