Uniquely in Singapore, when buying a HDB resale flat, you have to ensure that you are within the Ethnic Integration Policy (EIP) proportion for both the block and neighbourhood that you are interested in. The EIP was first introduced in parliament on 16 February 1989 to ensure a cohesive community by having a mix of races in each HDB estates. You can refer to the HDB portal to check on ethnic quota, and do note that the quota is updated on the first day of every month.
If you are a SPR, do note that the SPR quota is also applicable to you.
How does the EIP and SPR work
The EIP proportion applies for any HDB resale flat. In addition, the SPR quota applies to non-Malaysian SPR households.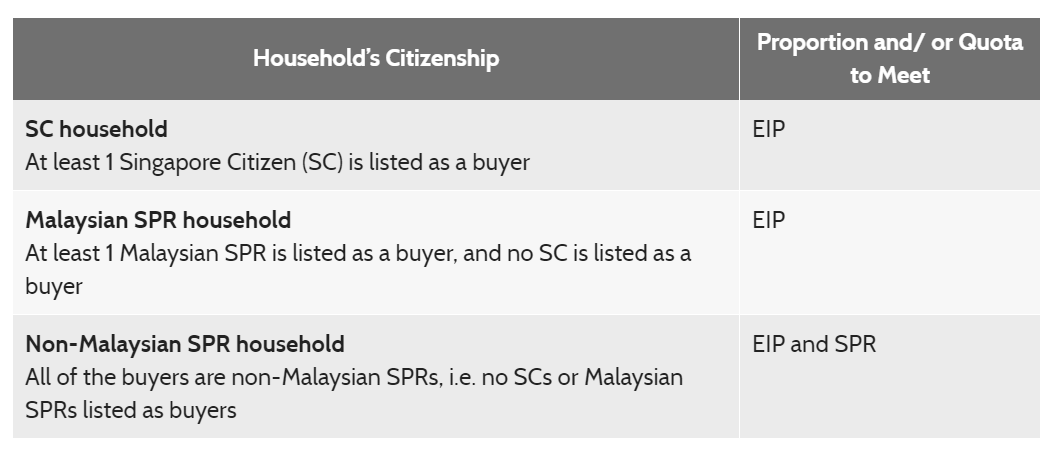 Credits: HDB.gov.sg
Success Story: How did we sell in 6 Days despite HDB Ethnic Quota
When it comes to selling a house, every clients' circumstance is unique. Unfortunately, some situations make it more difficult for one to sell the property. For example, the HDB ethnic quota restrictions could hinder property sales, especially when the pool of eligible buyers become severely limited. This occurrence is not infrequent in today's market, but we are fortunate to have helped sellers like Mrs Shoba overcome this situation.
We met Mrs Shoba on 2nd March 2020 at her HDB flat at 223 Bishan Street 23.  Prior to contacting Bluenest, we found out that she had been trying to sell her HDB flat for almost 2 years, since July 2018! The unit had many favorable traits, including having remaining lease of over 70 years, situated on a high floor, and being well renovated. Unfortunately, Mrs Shoba was facing difficulties finding the right buyer due to the ethic quota restriction: only non-Chinese buyers were eligible to purchase her HDB flat.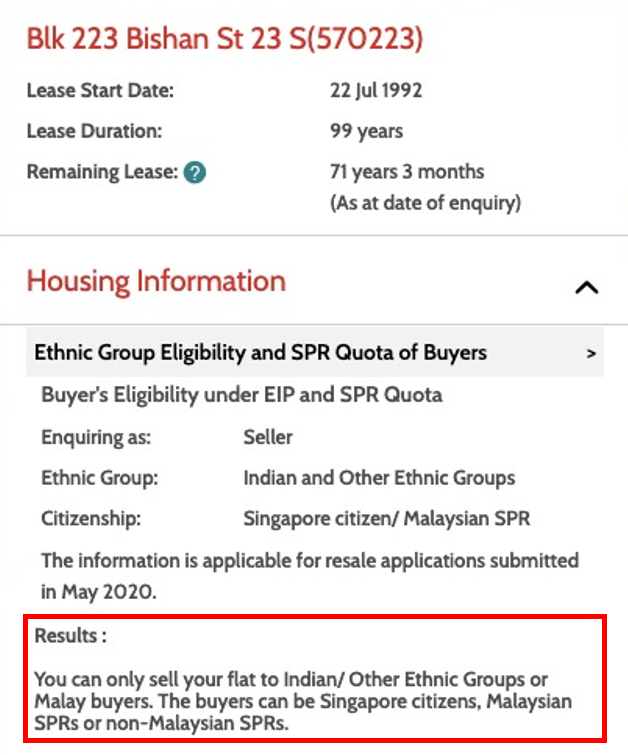 (Source: HDB map services)
How and what did we do for Mrs Shoba?
Nevertheless, we were not fazed by the challenge. Our methodological competitor analysis and research done showed that this HDB flat had tremendous potential. Coupled with our customized and targeted marketing strategy, we were very confident that we could sell this HDB flat in no time.
Like all the properties that we had sold, Mrs Shoba followed our Bluenest tips and advice closely and she also tidied up her property before our professional photographers commenced the photoshoot. Within just hours of receiving the images, our back-end support team had her advertisements posted on multiple property portals.
As Mrs Shoba's case required a more strategic approach, we utilized highly targeted marketing through our digital channels, to ensure that the advertisements were reaching the right audience.
Marketing strategy proven with immediate results 
With our customized and highly effective marketing approach, we secured multiple viewings for this HDB flat within just 3 days of advertising! It all narrowed down into 3 different sets of qualified buyers and after a few days of negotiation, we managed to close the deal for Mrs Shoba. Mrs Shoba was truly excited and happy that we managed to sell her HDB flat within just 6 days of advertising as she has been selling for almost 2 years!
Do also check out more of our success stories:
Just like fishing, finding the right buyer requires the proper tools and channels. With our technologies, we are able to tailor our methods to help you reach the right buyer in the quickest time. Reach out to us to find out how we can help you with your sale.