Just as we're ending the first half of 2022, we're seeing the highest inflation we've seen in the last 10 years. The rising prices of food, electricity, petrol, and transport are hitting consumer wallets hard.
For current or would-be homeowners, that begs the question: will property prices continue to surge? Is now a good time to cash out or buy?
We took the opportunity to catch up with our team of senior property advisors on Singapore's property market outlook for 2022. Here are the trends we'll be watching out for through the 2nd half of the year.
A Quick Summary of 2021 – 2022

2021 was a great year for property, with private property prices jumping by 10.6% and resale HDB flats by 12.7%.
But why did the property market do so well last year? Let's recap:
1. High Domestic Demand
In 2021, we saw:
More people shifting to hybrid work arrangements and wanting larger homes as a result

BTO and new launch condo delays pushing people into the resale market

A willingness to pay a premium for more square footage, or just to have their own space given that everyone was trapped at home
2. Low Interest Rates Made It Attractive to Borrow More
The threat of COVID-19 still loomed large last year, and governments were hesitant to do anything that might threaten their already-fragile local economies. Part of that meant keeping interest rates near zero.
The result? It was cheaper than ever for the average consumer to take on a loan.
On top of that, many investors also took on debt to purchase assets like equities – and 2021 was one of the best years ever for the stock market. The returns they generated went back into the market, fueling asset prices even more.
3. Now, Both Sales and Rental Prices Are at Record Levels
This confluence of factors led to the sharp spikes in real estate pricing, bleeding into the rental market as well. In the first half of 2022, we saw the trend continue even as the restrictions lift and life returns to normal.
But the tide is already turning. The factors that fed the price growth last year are diminishing – and in some cases, reversing.
6 Trends to Watch Out for in the 2nd Half of 2022
Here's what we predict may happen:
1. Property Prices Are Likely to Keep Going Up, but More Slowly Than in 2021
With many companies allowing WFH, the desire for more space hasn't changed. About 31,000 HDB flats are coming off their Minimum Occupation Period (MOP) this year, and we expect a good percentage of those homeowners to look into upgrading.
Read also: 10+ Traps to Avoid When Upgrading from HDB
But with the market currently at a high, demand is likely to come from those upgrading from their current properties rather than those buying a home for the first time.
Those upgrading will be buying high, but also selling high – whereas those hoping to buy their first homes won't have the advantage of asset appreciation to fund their purchases.
Compared to the 10.6% price growth for private property we saw in 2021, analysts predict that we might only see 1% to 4% for private property this year.
2. Owner-Occupiers Will Continue to Fuel Most of the Demand
Like last year, owner-occupiers may make up the majority of buyers in 2022.
That's because the recent cooling measures (like the ABSD hike) affect foreigners and speculative buyers the most. Those buying for their own stay won't really feel the impact of the property cooling measures.
On top of that, inflation and rising mortgage rates may dampen speculative buying. Singapore has always taken its cue from the US Federal Reserve. As the Fed increases rates, local home loan interest rates follow suit: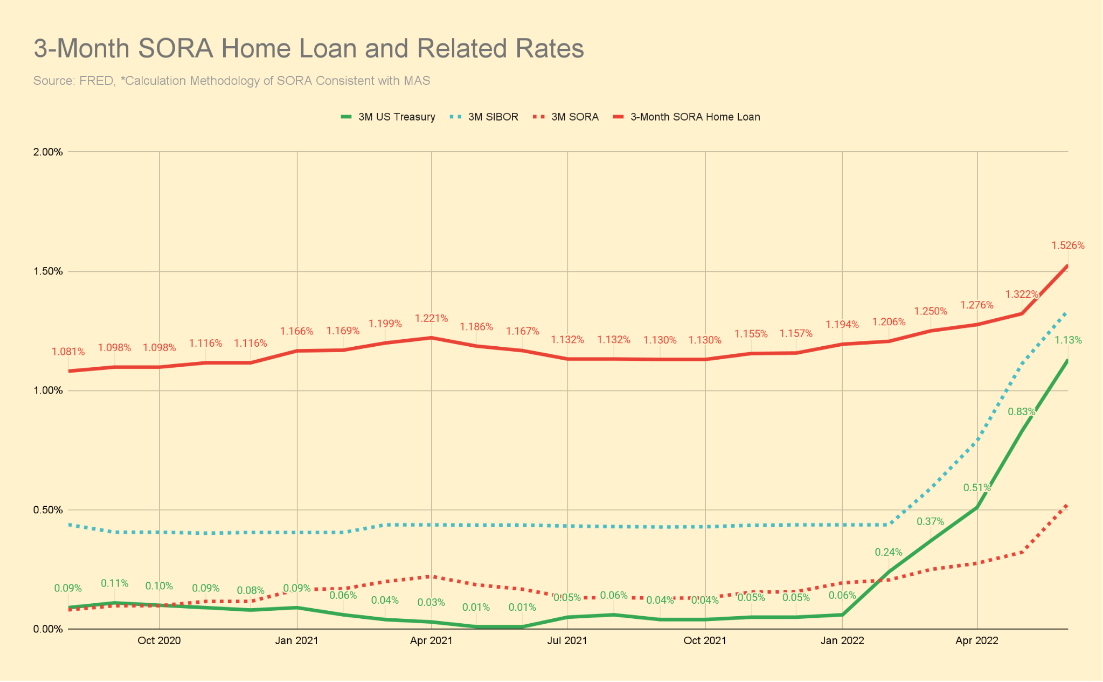 That means investors will need a lot more capital to fund a property purchase. Also, those buying at a high may worry about whether – or when – they'll be able to offload the units for ample capital appreciation.
When we're marketing multiple resale units in the same development, for example, we now see a lot less demand for studios and 1-bedroom units compared to 3-bedrooms. In the past, these studio and 1-bedroom units received a lot more interest from those buying a 2nd or 3rd property for investment or rental income purposes.
3. Buyers Will Be Driven Into the Resale Market
Similar to 2021, we may see a waterfall effect as BTOs and other construction delays continue to weigh on supply shortages.
Continued BTO Delays, Fewer New Launches
To date, 58 BTO projects (less than 60%) have been delayed by 6 months or more.
Although HDB plans to launch 23,000 flats yearly in 2022 and 2023, the situation remains volatile due to the continued supply chain disruptions and the re-emergence of COVID-19 in other parts of the world.
We're also expecting fewer new condos in 2022, with most of them slated as 99-year leaseholds.
Still, demand remains high. Over 75% of the units in the recent Liv@MB launch sold within the first weekend. Two weeks prior, Piccadilly Grand sold 77% of its units on launch weekend.
Buyers wanting freehold – or hoping to move into the new place within the next year or so – will have to look at the resale market instead. Those who can afford ECs or private condominiums will consider these in comparison to resale HDBs, especially when taking into account higher COVs.
With demand growth outpacing supply, our property advisors believe prices won't pare off until there's a marked increase in supply. This will more likely happen in 2023 at the earliest, especially taking into account HDB's commitment to increase BTO launches.
4. Rental Market Rates Will Remain High
With all these market forces at play, rental market prices are likely to remain high.
Read also: How to Determine Market Rental Rates for Private Property
That said, we think rental prices will also stabilise and grow at a slower rate. Border controls are easing and leases that were signed during the 2020-2021 lockdowns are starting to expire. We're now seeing a greater supply of for-rent units, though demand also remains high with all the construction delays.
The government has also highlighted that there continues to be a labour shortage across industries, with unfilled jobs in Q1 2022 almost double from the same period in 2021. A corresponding increase in foreign workers and expats will bolster rental prices.
5. More New Record Prices for Older Flats (Premium for Space)
2022 has been a year of record-setting sales.
In May, we saw a 4-room HDB at Pinnacle@Duxton sell for S$1.228 million: the highest transacted price on record for a 4-room flat. This is just a month after a 5-room unit in the same development sold for S$1.228 million as well.
In the same month, a 4-room flat at Henderson Road transacted at S$1.4 million. Just last month, flats in Pasir Ris and Woodlands also saw transactions above the S$1 million mark. 
With many employees preferring to WFH, buyers will favour older flats over newer but smaller ones. (The average 4-room flat these days is around 86 square metres – compared to the 142 square metres of an Executive Apartment.)
Our analyst believes that the recent records for older 5-room HDB flats will set a new benchmark. The scarcity of jumbo HDBs and Executive Apartments (both no longer in production) will keep the premium for space high.
6. More Foreign Buyers in the Luxury Property Segment
Chances are that we'll continue to see high demand from foreign buyers, especially in the luxury property segment. Singapore's positioning as a tax haven and regional business hub with first-world infrastructure continues to make Singapore a popular outpost for wealthy family offices.
Geo-political tensions, both in the region and internationally, will continue to drive capital in a 'flight to safety' towards Singapore's investment-friendly environment. In Q1 this year alone, Singapore's Capital and Financial Account saw a balance inflow of S$76B – the highest ever on record.