March and April saw record-setting rental prices in Singapore.
We had headlines like "Condo, HDB rental prices hit record highs in April; fewer units leased" (Straits Times) and "Pricey Singapore rents go through the roof even as population dips" (Reuters).
So it's natural that people are asking, "are these sky-high rental prices here to stay?" and "How do I determine what's the best market rate for rental units?"
We'll cover that today with insights from Kenneth, one of our best agents for marketing rental properties:
Yes, the Data Points to Record Highs…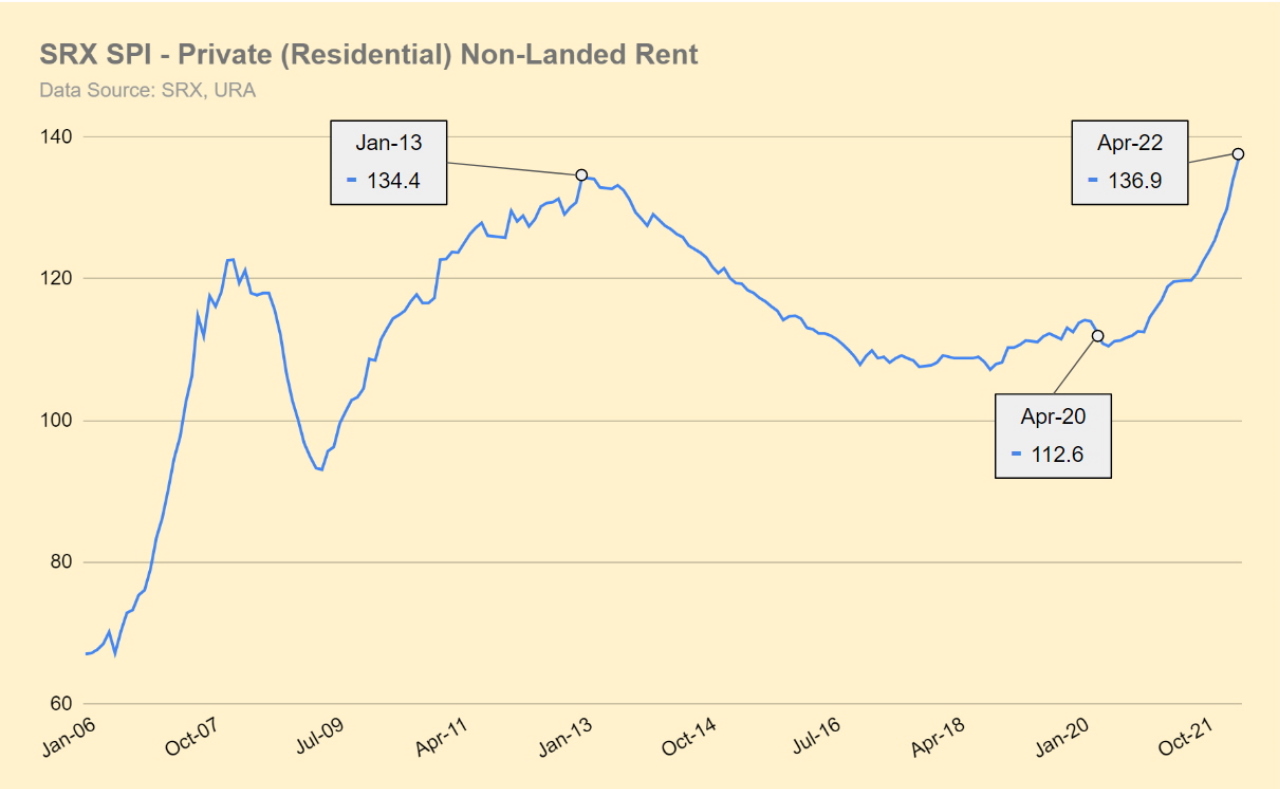 First, we should acknowledge that all the data points to the same conclusion:
rental prices are at unseen levels,
even while both Singapore and Malaysia's economies are recovering to pre-covid levels of activity.
Whether you look at the market by district or break it up into the three URA-defined regions (Core Central Region, Rest of Central Region, Outside Central Region), rentals are above the previous 2013 high.
…but the Rental Price Surge May Be Temporary
Most are predicting that rental prices will continue to surge, citing continued BTO delays, construction industry cost pressures, and more young adults leaving the nest for their own space.
But contrary to popular belief, these factors may not contribute as much as we think.
One counterargument that these high rental prices are a result of a couple things:
A spike in demand during the lockdowns.

Before COVID,

over 300,000 Malaysians

crossed the Johor-Singapore Causeway every day. When the borders were closed, many of them were forced to choose between giving up their livelihoods or urgently arranging for accommodation in Singapore.

Ripple effects across the whole rental market.

As more affordable units were snapped up, renters began looking toward the pricier, more centrally-located units. This led to price increases across the board.
However, the workers who were suddenly in need of accommodation would have likely signed shorter tenancies, from 6-18 months.
The Shorter-Term Pressures are Lifting
Rental price indices like the SRX SPI don't differentiate between the different lengths of leases, so high-priced rentals may only be short-term rentals. We're now seeing the gradual expiry of the leases signed during the lockdowns, leading to more supply in the market.
With the borders opening up again, many of these tenancies may end without renewal. And when demand starts dropping while supply increases, prices drop as well.
What Makes It Hard to Accurately Price Rentals?
No matter which direction the broader market goes, the question that's always relevant is how to determine what's market rate for rentals.
After all, the data shows that even within the same month, units of the same size and in the same development can show a rent variation as high as 67.5%: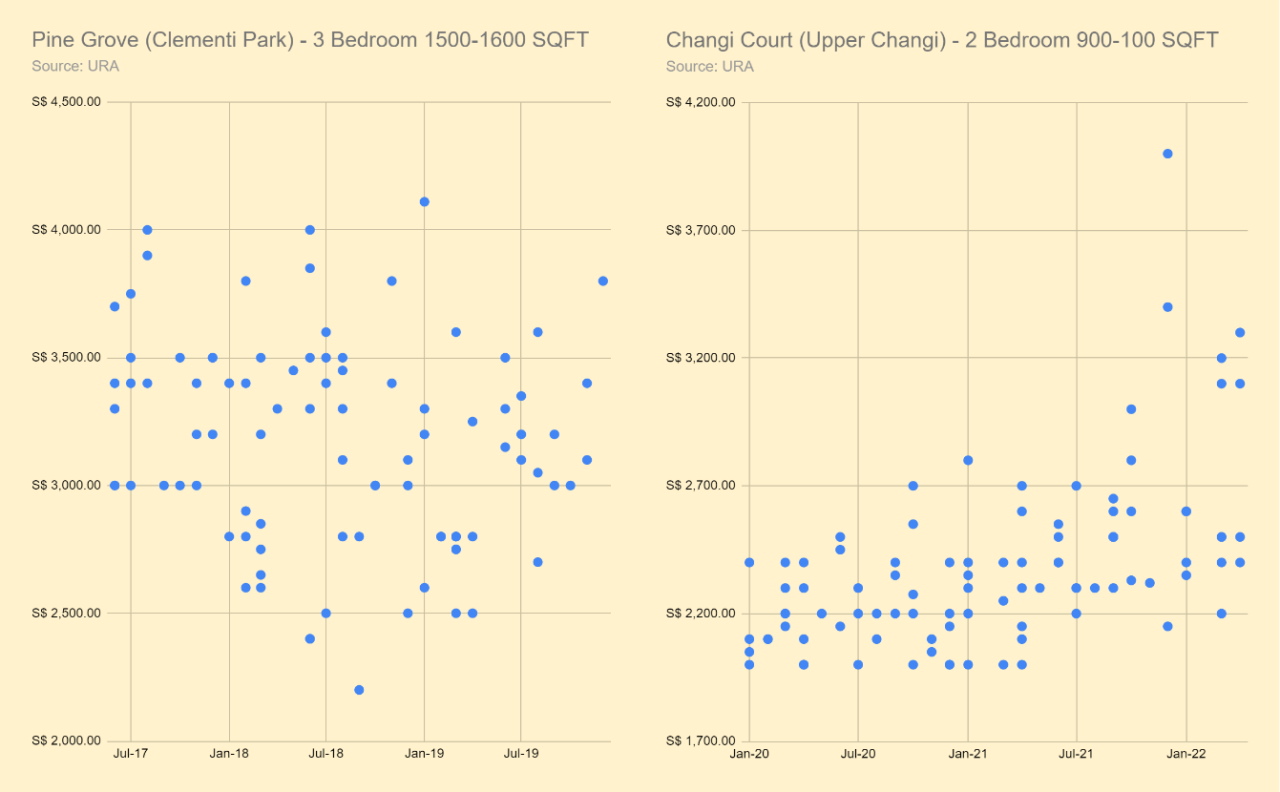 That makes it hard to determine what landlords should be charging – or whether you're paying a fair rate as a tenant.
A few of the factors that influence the variance include:
Facing, floor, and view.

As with properties for sale, units that have a favourable facing, higher floor, or better view tend to go for higher rental prices.

Renovations and furnishing.

If the unit is newly renovated or better furnished than the other listings in the vicinity, landlords often demand higher rentals.

Renewal of existing tenancies.

New tenancies tend to be priced higher than renewals, as landlords tend to buffer potential costs and inconveniences into rental prices in case there are issues with new tenants.
But even when accounting for these factors, the high variance in rental pricing has been noticeable for every district in the last two decades.
That's because there are also subjective considerations to take into account: for example, how safe the landlord feels about the tenant, whether the landlord believes the tenant will take good care of their property, and how much the tenant likes the unit.
That means there's a lot of value for both landlords and tenants to be able to accurately assess rental rates prior to negotiations.
How to Determine Market Rental Rates for Private Property
Even with the intangible elements at play, there are still ways to get a good gauge on a fair market rental rate. Here are the factors to consider when calculating rental prices for your property:
1. Tenancy terms are just as important as rental rates.
Understandably, there's a lot of anxiety for both the landlord and tenant around paying too much or charging too little. You can offset this anxiety by including terms in the tenancy agreement that clarify maintenance, repair, and replacement costs.
Many agreements include a clause where the tenant bears maintenance costs from S$150 to S$200, after which the landlord foots the rest of the bill. Of course, this is based on a mutual agreement of what's reasonable wear and tear for the age of the property.
2. Don't Peg Your Rental Prices to Past Transactions.
Because most whole-unit tenancies last for multiple years, past transactions aren't the best indication of current supply and demand. To add to the complication, tenancy renewals also hinge on the specific relationship between the landlord and tenant. That means the prices documented in URA aren't necessarily what the market is willing to pay in the present.
This is especially relevant given that we've noticed some agents use past transactions to lower their landlords' expectations (in hopes of a faster transaction).
As we mentioned above, the current high rental prices may not last. You should negotiate based on the current demand for units, especially now that borders are re-opening.
3. Do a Comparison with Neighbouring Units and Developments.
While past transactions may not be a great indication, current listings on property portals are. Location factors heavily into rental rates. Look around to see what similarly-sized units and developments in the area are charging for rentals.
4. Get a Baseline for Your District.
This may seem somewhat contradictory to point #2, but you can still fall back on past transacted data if there are no current listings for your area. URA provides a good resource that you can use to pull median rentals. You can search by district, calendar quarter, or specific developments. Here's a snapshot of median rentals from the first quarter of this year:
Median Rental Rates (By District)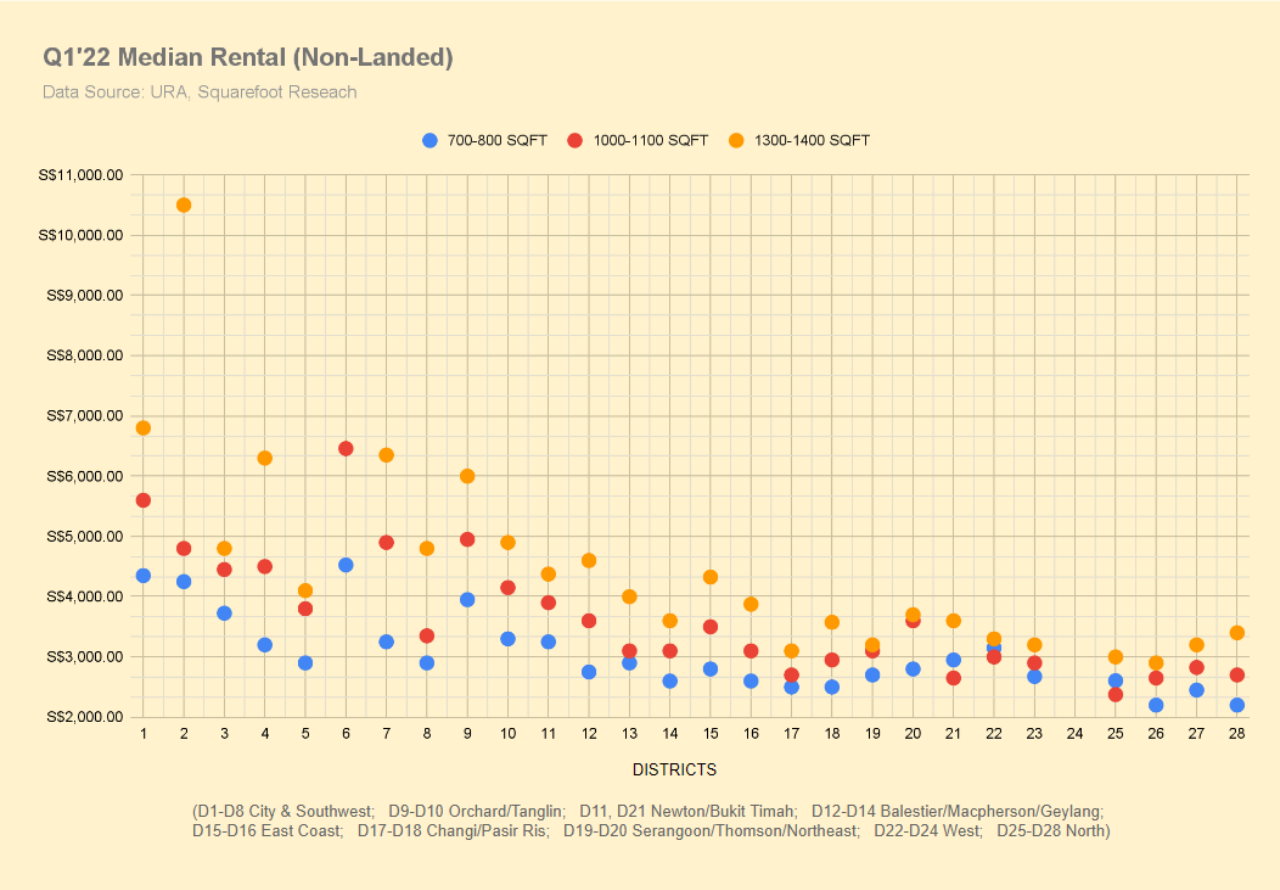 5. Fair Market Rate Isn't Just About Pricing.
Don't make your decision based on price alone: the relational elements are just as important given the length of a tenancy agreement.
For example, landlords might prefer a tenant who's easy to communicate with and willing to make compromises over one who pays a bit more but is difficult to deal with.
For tenants, the locality, layout, and condition of the unit may warrant paying a bit more so they can have a home that suits their needs.
Final Thoughts
Good tenants want a good landlord, and vice versa.
While both parties are bound to search out pricing that's in their best interest, it's important to keep in mind that the relationship may last for years. Going for a win-win scenario would set up an amicable relationship between the landlord and tenant, since neither side feels like they're being taken advantage of.
A landlord who feels underpaid will be less likely to renew a tenancy or assist with maintenance issues. On the other hand, tenants who feel they're overpaying will put less effort into upkeep – and may be constantly asking the landlord for repairs or replacements.