Multi-generational flats aren't a new concept to Singapore. We saw the first ones in the 80's: jumbo flats with a massive 163sqm of space (or larger!) that gave interior designers nosebleeds from all the possible design prospects.
These jumbo flats are few and far between now, with even remote locations transacting at record highs.
3gen flats are newer. The first ones – at Boon Lay View and Saraca Breeze – launched in 2013. They TOPed in 2017, so they've just completed the MOP this year.
At an average floor area of 1300+ sqft or 120sqm, the 3-generation flat design is larger than a 5-room flat but smaller than an Executive flat. What makes them unique and coveted is that they come with 4 bedrooms and 3 bathrooms, whereas all other new generation large flats come with 3 bedrooms and 2 bathrooms.
Even with the unique requirements to purchase a 3-gen flat, demand for these units has been high with a take-up rate of 83% during launches. I suspect that these units will also be popular as they enter the resale market for the first time.
Read also: From HDB to Condo: Can You Get a Dual Key Condo at a Discount?
Eligibility Criteria
Since 3 Gen or Multi-generation flats are meant to accommodate two or more occupants living with at least one parent, the requirements are strict.
Below are the eligibility requirements for buying resale 3 Gen flats. Do note, however, that Prime Location Public Housing (PLH) flats have even more stringent requirements and would be similar to applying for 3 Gen BTOs.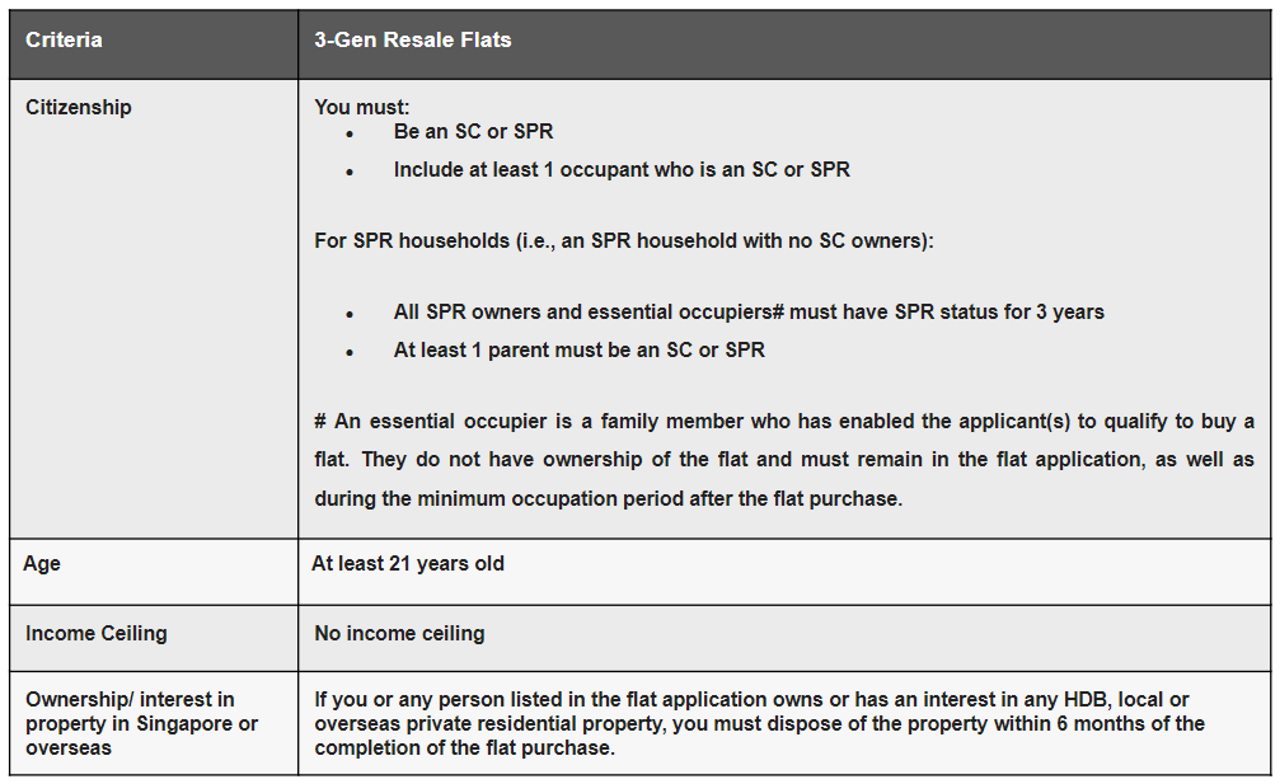 Newly MOPed 3 Gen Flats in 2022
1. Boon Lay View (Jurong West)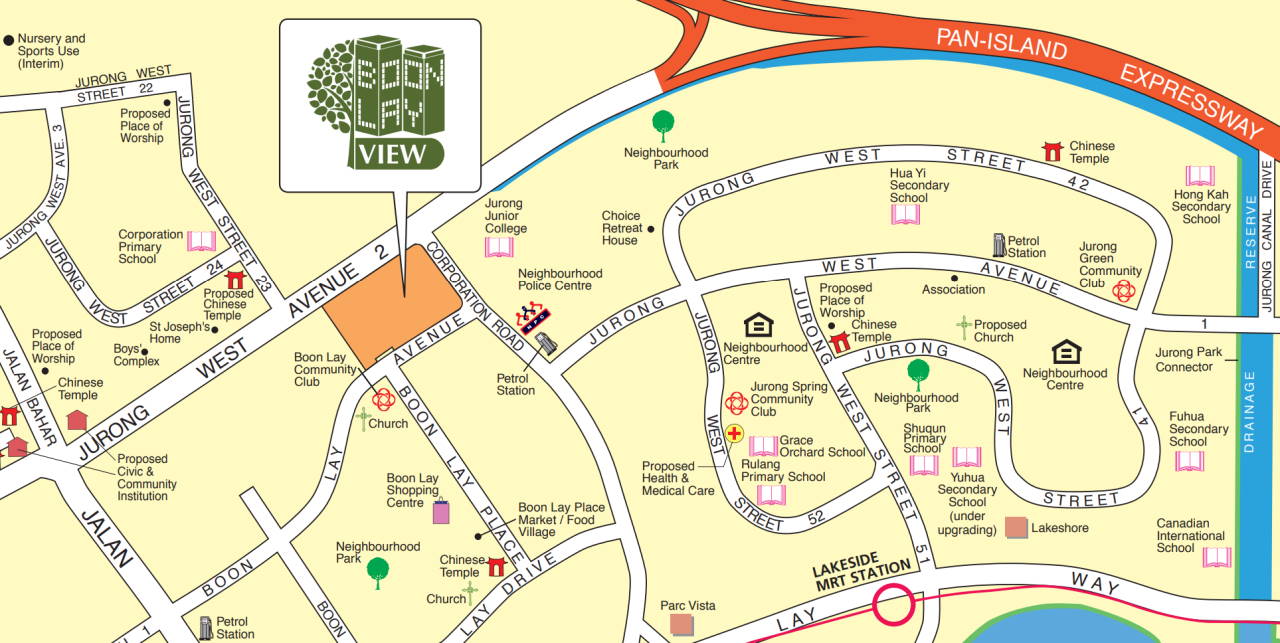 Boon Lay View feels like a cosy and semi-private community despite being public housing. Its blocks encircle the typical HDB amenities – fitness corners, pavillions, a Senior Care Centre, and a Residents' Centre – as though creating an enclave in the middle of the busy-ness of Jurong West.
There's also plenty to do in the surrounding neighbourhood. Jalan Bahar Park, Boon Lay Drive Park, Boon Lay Community Club, and Boon Lay Place Market and Terrace Garden are all within walking distance.
The downside of this place is that it's not terribly near an MRT. Both Lakeside and Boon Lay MRT are a good 2km away. Then again, you'll find most of your day-to-day necessities covered in the neighbourhood, so you won't feel it much unless you have a long commute to work.
Schools within 1km include Boon Lay Garden, Corporation, and Rulang Primary School.
Layout & Design
Boon Lay View houses 3-room, 4-room, 5-room, and 3-gen HDB flats. The 3gen units are all located in Blk 216A, 217A, 218A, and 218D, which are shared with only 4- and 5-room flats. There are two lifts serving five to six units per floor – an excellent (and rare) ratio.
Given that the estate sits next to Jurong West Ave 3, we'd recommend searching for units in Blk 216A and 217A if available. These are on the southern side of the estate and therefore farther from traffic noises.
Blocks are spaced a good distance apart even within the enclosed community, so residents enjoy a degree of privacy with views overlooking the greenery at the estate's centre.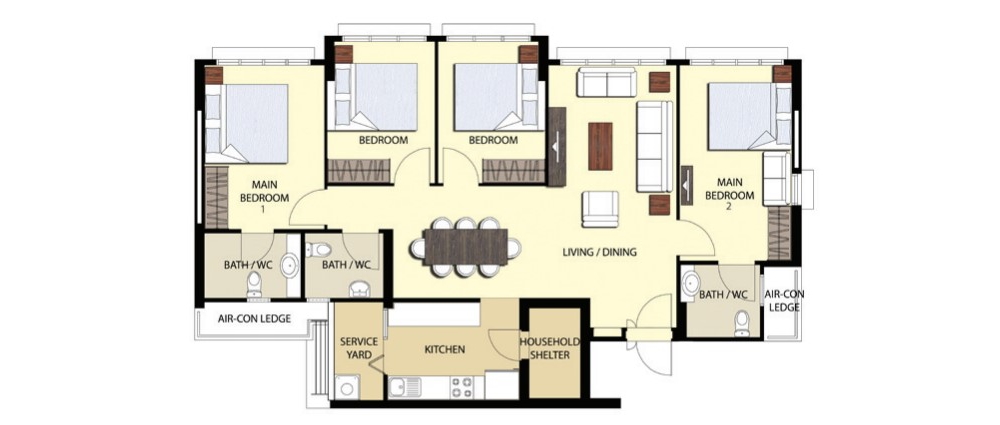 The 3 gen flats here are sized at 1,302 sqft, or 120sqm. That's 75sqft larger than the 5-room flats in the same estate – or in other words, about half a car park space bigger. The main difference is that you'll get the extra bedroom and ensuite bath, though you'll trade a good bit of your living / dining area for it.
Pricing
As of time of writing, listing prices range from $720k – $850k.
There's no transaction data available for multi-gens in Jurong West, but 5-room flats within 200m of Boon Lay View have transacted for between $584k – $735k in the last 6 months.
Similarly-sized (or larger) 5-room flats/maisonettes/'improved' HDBs in Jurong West range from $458k to $620k, though all are older (most are over 30 years old).
2. Anchorvale Parkview (Sengkang)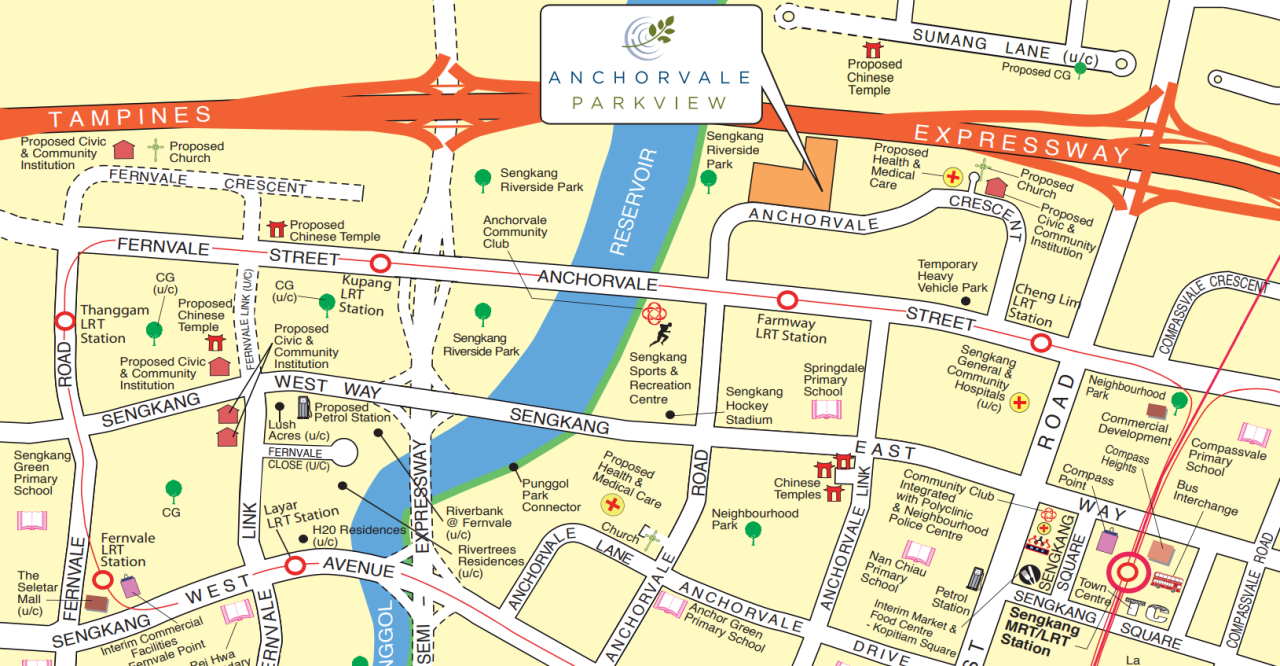 Spanning four blocks and 503 units, Anchorvale Parkview was a highly popular BTO choice when it first launched. Its location next to Sengkang Riverside Park means you have easy access to the park (and PCN) for cycling, running, skating, and a plethora of other outdoor activities.
Farmway LRT (SW2) is a 5-min walk. If you drive, this location also gives you easy access to the TPE via Sengkang East Road.
Schools within 1km include Nan Chiau, Springdale, Punggol Green, and Fern Green Primary School.
Layout & Design
The 3gen flats (sized 1,302 sqft, or 120sqm) in Anchorvale Parkview are housed in Blk 338A, 338B, and 338D. Of these, 338A and 338D are closest to Sengkang Riverside Park. All four blocks get a decent view of the water along with a nice breeze though.
Depending on the block you select, there are one to three 3-gen flats per floor along with other 4- and 5-room units. Here, two lifts serve between seven to 10 units per floor.
Blk 338D has the best layout for 3gen flats in terms of privacy. There are only seven flats per floor (compared to Blk 338A's 10 units). You won't share any walls with your neighbours, nor does your entrance directly face another unit's.
The default configuration is an open-concept kitchen. What's nice about the units here is that there's minimal dead space: the household shelter is tucked away at the side of the kitchen, leaving a very functional L-shaped layout for the living and dining area.

Two of the bedrooms open up into the living/dining area, but the master bedroom has its own secluded corner. This is unlike some 3gen flat layouts, wherein three of the bedroom doors are right next to each other.
Pricing
At the time of writing there were three listings for 3-gen flats at Anchorvale Parkview – one each at Blk 338A, 338B, and 338D. Current listings are between $680k – $880k, with the higher-priced ones on higher floors.
There's no past transaction data for multi-gen units here. In this month alone though, three 5-room flats in the same HDB estate sold for between $675k – $728,888.
3. Saraca Breeze (Yishun)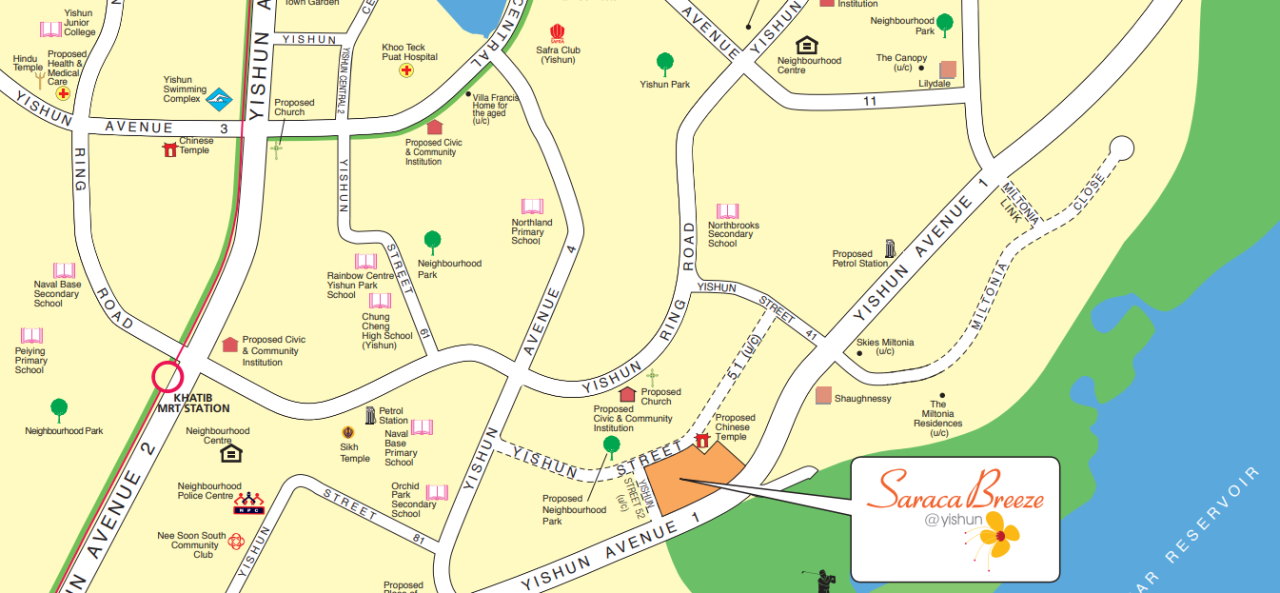 So named for the saraca trees that line its grounds, Saraca Breeze @ Yishun enjoys a refreshing breeze and views of greenery. At 432 units, this is the smallest development on our list.
Schools within 1km include Naval Base and Northland Primary School. The nearest MRT is Khatib (NS14) at 1.4km away.
Layout & Design
The HDB estate comprises four 13-storey blocks with 3-, 4-, 5-room, and 3-gen flats. The 3gen flats are spread across all four blocks. Of these, 513C has the best view of greenery since it's opposite the Orchid Country Club Golf Range.
The 3-gen units at Saraca Breeze come in at 1,302 sqft (or 120sqm) with the usual 4 bedrooms and 3 bathrooms.
Definitely not our first choice with 3-gen flat layouts, as the living and dining area has the household shelter jutting into it slightly. The structural walls that surround the household shelter will also limit flexibility for design choices around the entrance, prohibiting a full open-concept layout between the living/dining area and kitchen. 

Pricing
At the time of writing, there were three 3-gen flat listings priced between $760k – $800k.
This is consistent with 5-room flats in the vicinity also listing between $615 – 630 psf (or around $750k) for a 1,216sqft unit.
There are no recorded sales of 3gen flats in Saraca Breeze @ Yishun, but there have been four transactions of older multi-gen units in Yishun in the last 6 months. These sold for between $785k – $862k for units sized 163 – 171 sqm.
4. Park Grove @ Yishun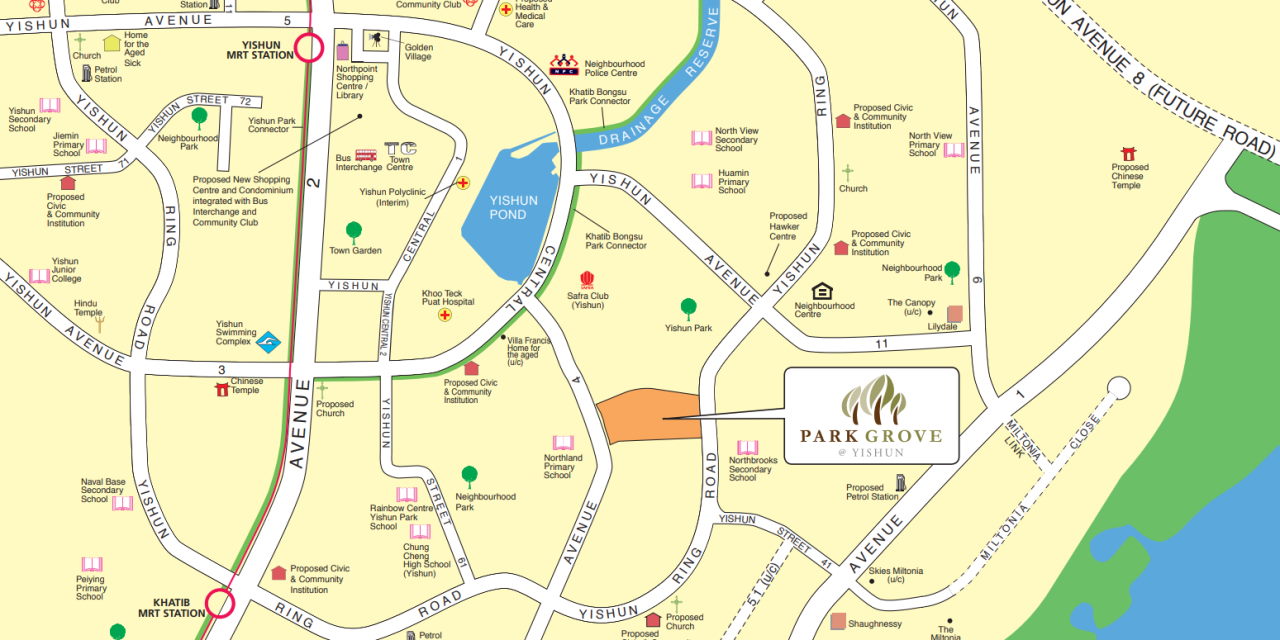 Just south of SAFRA Yishun is Park Grove @ Yishun, a 15-minute walk northeast of Khatib MRT (NS14). The location has a plethora of amenities: it's a 5-min walk north of Wisteria Mall,  8-min walk south of SAFRA Yishun, and 20-min walk southeast from Northpoint City shopping mall. Khoo Teck Puat Hospital is also a 10-min walk away.
There are also plenty of parks nearby, with the largest being Yishun Park followed by Rockridge Park @ Yishun. If you're a golf enthusiast, the Orchid Country Club is just a 5-min drive south towards the Lower Seletar Reservoir.
Primary schools within 1km include Huamin, Naval Base, North View, and Northland.
Layout & Design

The layout and design of 3-gen flats in Park Grove are similar to others in the same generation of launches. The household shelter extends from the kitchen, leaving the rest of the unit with a practical and open rectangular layout. The default design includes an open-concept kitchen / dining area that's well-suited for a breakfast bar or large island.
Pricing
Park Grove @ Yishun's MOP is in September, so there are no listings yet. However, nearby 5-room flats of the same size are listed between $660k – $700k.
A 5-room flat within 200m of Park Grove sold for $625k in the last 6 months.
5. Buangkok Edgeview (Dec 2022 MOP)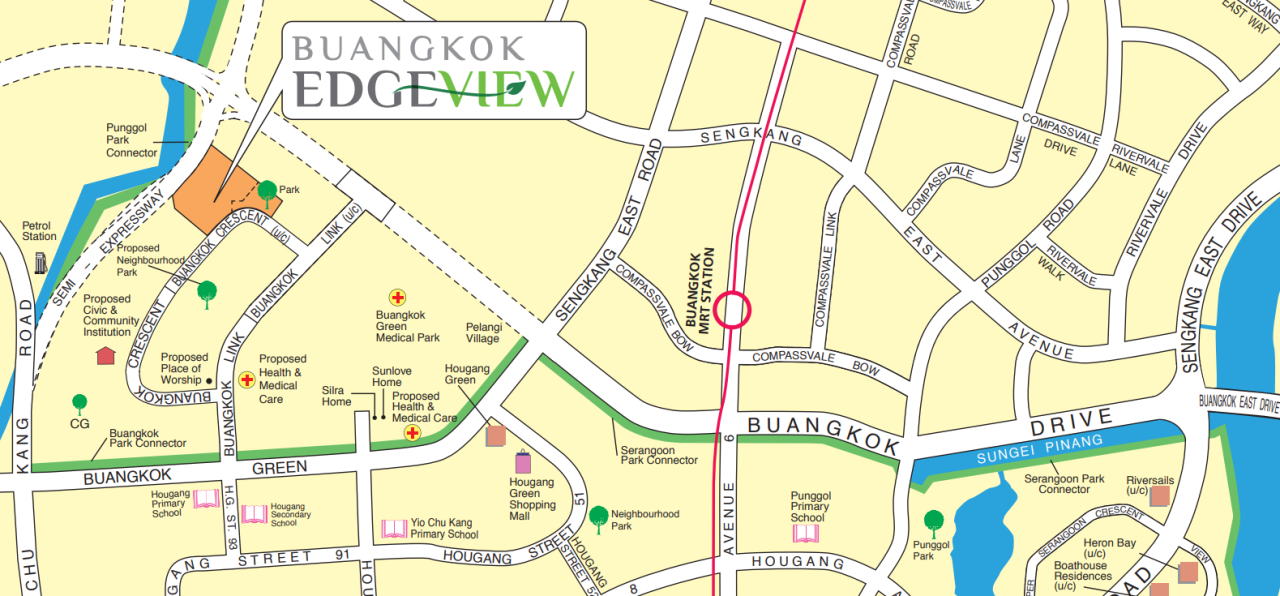 Buangkok Edgeview is only set to MOP in December this year. The development is bounded by Buangkok Crescent and is just across the road from Buangkok Square Mall and Buangkok Square Park.
Buangkok Edgeview is quite out of the way of MRT or LRT lines, and you'll probably have to rely on buses for public transport. The nearest train service, Tongkang LRT (SW7), is a 1.8km or 25-min walk along Sungei Punggol to the north.
Schools within 1km include Anchor Green Primary, Fernvale Primary, Hougang Primary, Palm View Primary, Sengkang Green Primary, and Yio Chu Kang Primary School.
Layout & Design
The 467-unit HDB estate houses 4-, 5-room, and 3-gen flats in its three blocks. Three lifts serve between seven to 11 units per floor.
The 3-gen flats in Blk 997A and 997C have the best positioning and facing – 997C faces the brand new park, while the southeastern 3-gen flats in 997A are farthest from the upcoming semi-expressway.

Like the others on this list, Buangkok Edgeview 3-gen flats are 1,302 sqft (or 120sqm) and come by default with an open-concept kitchen and dining area.
Pricing
As this is a newly built-up area, there are no recorded transactions within 200m of Buangkok Edgeview in the past year.